Beyoncé And Blue Ivy Stole All The Thunder At "The Lion King" Premiere (Because, Of Course)
Mike Coppola/Getty Images Entertainment/Getty Images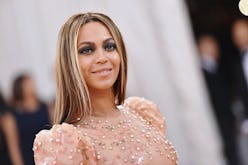 The stars were out in Hollywood on Tues. at the premiere of Disney's highly anticipated live-action remake of The Lion King, and Beyoncé's glitzy red carpet look will have your jaw on the floor. Stepping out for a rare appearance with none other than her seven-year-old mini-me, Blue Ivy, the Hold Up singer was bathed in crystals in a head-turning ensemble by Alexander McQueen. Looking like royalty in a jewel-adorned blazer dress that reflected the flash of the cameras, Bey stayed true to form, commanding the crowd with an embellished floor-length tulle train that emerged from the structured suit jacket.
Blue Ivy followed suit, donning an adorable matching look which also featured a custom McQueen crystal blazer and coordinated tulle train. Aside from the occasional iconic awards show moment and rare Instagram snap, the world doesn't get to see a ton of Blue, so this twinning moment was a precious scene to behold. Clasping hands on the red carpet, the dynamic duo served next-level beauty, too. While Beyoncé's hair was braided into intricate cornrows featuring swirled baby hairs for a flapper-esque flair, Blue opted for double buns secured with diamond-lined hair ties.
A week out from the film's release, Disney announced that the Grammy Award-winning artist will be curating and producing The Lion King: The Gift, a new album "steeped in the sounds of Africa," featuring Bey's new single, "Spirit," which is now available to stream. "I wanted to put everyone on their own journey to link the storyline," the singer said in a statement. "It was important that the music was not only performed by the most interesting and talented artists but also produced by the best African producers. Authenticity and heart were important to me," she continued.
It's obviously a major milestone for the superstar and everyone who grew up watching the iconic animated film — and the world is waiting intently, with popcorn at the ready. In the meantime, you can channel Bey's structured, elaborately decorated red carpet look with The Zoe Report's selection of ornate blazers, ahead.
Shop The Look