Benefit Just Released The Lightweight, Easy-To-Use Foundation You've Been Searching For
Benefit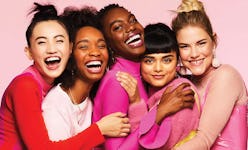 Typically speaking, lightweight and breathable probably aren't the first two words that come to mind when you think about foundation. However, they're the very first ones to pop up in the product description of Benefit's Hello Happy Velvet Powder Foundation. Unveiled on June 25, the cult-favorite beauty brand's latest foundation is going to make your summer beauty routine much simpler — and way more bearable if temperatures climb into the triple digits.
Although Benefit is quick to note online that the powder foundation is buildable, its shade range will probably give this away before you notice anything else; the $30 Hello Happy Velvet Powder Foundation only comes in 12 shades. This shouldn't limit how many people can find their match, though — according to a self evaluation from more than 100 women, 93 percent of those who tried the foundation for one week reported that it was easy to build up coverage using the product. For the Hello Happy Velvet Powder Foundation, customization is key.
As is mattifying your skin, regardless of your skin type. If you have oily skin, you've probably been told to try out a powder foundation formula — and data from Benefit's self-evaluation test backs it up, with 96 percent of users stating that the new product minimizes shine.
But you may want to give Benefit's new foundation a try even if your skin is on the drier side. The beauty brand notes online that the powder is "creamy-soft", adding that the formula includes shea butter extracts. Additionally, the Hello Happy Velvet Powder Foundation comes with two different brushes, which allows you to further customize the product for your skin — you can use the traditional brush to swipe on lighter coverage, or the package's sponge applicator to achieve a fuller-coverage look.
Looking for a foundation that'll achieve fuller coverage even faster? Benefit also released a new, higher-coverage version of its original Hello Happy Soft Blur Foundation — called the Hello Happy Flawless Brightening Foundation — on June 25. As you may expect, the two recently-launched formulas work happily together: Benefit's how-to guide explains the Hello Happy Velvet Powder Foundation can be used to set any liquid formula.
Both new foundations have their benefits (no pun intended), so keep scrolling down if you need some help deciding — the two new Benefit products are below.