12 Bella Hadid-Approved Sunglasses That Should Be On Your Radar For Spring
Beretta/Sims/Shutterstock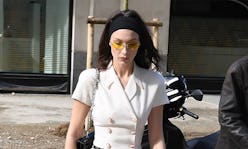 It's official: Spring has sprung, and there's nothing but clear blue skies and sunshine for as far as the eye can see. Ok, realistically, the season will throw a few curveball days our way — some being wetter and gloomier than others — but you should still have chic shades on hand when sunshine makes an appearance. When the clouds aren't throwing shade, Bella Hadid's sunglasses save the day, and the model's eyewear lineup is an excellent mood board to pull inspiration from this spring.
From full-on Matrix-inspired looks to early 2000s vibes, the 22-year-old tastemaker dives into daring sunglasses trends head-first. So, arm yourself with Bella-approved trends and UV ray protection by adding one (or a few) of the options below to your seasonal selection.
Transparent Lenses
Iconic looks of the early aughts would be nothing without transparent, tinted lenses (you know, the ones that might not actually serve a purpose beyond aesthetic). Whether you opt for a blue, pink, or ombré variation, you'll making a statement with the daring shades, and Hadid would certainly approve. Bring it all the way home and add a hair clip for ultimate nostalgia.
Shop The Look
Futuristic Cat Eye
Hadid regularly wears a futuristic take on the classic cat-eye frame — and it's easy to see why. Whether she's rocking white frames or an all-black version, the statement style pairs well with everything in her closet.
Shop The Look
Rectangular Frames
Bella Hadid continues to ride out that '90s-inspired style wave with her miniature rectangular shades. Consider one of the styles below, which supermodels and trendy cartoon characters of the '90s would definitely approve of (Judy Funnie, anyone?).
Shop The Look
Square Lenses
If you tiny frames aren't for you, opt for a square-shaped style that says "go big or go home." Follow Hadid's lead by pairing this style with casual tees, tanks, and dresses for a laid-back feel.
Shop The Look