This Bella Hadid-Approved Lipstick Is The Wear-With-Everything Shade You've Been Looking For
Vittorio Zunino Celotto/Getty Images Entertainment/Getty Images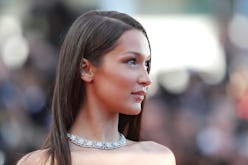 Bella Hadid transformed into a '90s supermodel on the pink carpet of Mon.'s Met Gala, but she was back to being her old self again at the Dior Beauty Pop Up on Weds. She ditched the pixie wig and returned to her long chestnut waves, that signature smoky eye, and the neutral pout you probably keep overlooking. Mauve lipstick is a mainstay in Bella Hadid's makeup routine.
How many times have you seen this 22-year-old wear a red lip? Not many (not nearly as many as Gigi, at least). The younger Hadid has admitted before that fiery lip colors make her super uncomfortable.
"There's probably five times, maybe, you've seen me with a red lip. I'm very self-conscious about it," the model told Allure in an interview last year. "I always stick to nudes and darker colors."
The Bordeaux lip is Hadid's secret weapon for special occasions — she's no stranger to a dark berry shade or even a gothic black — but her everyday look calls for something far more casual.
Two days after her major Met Gala look, the model dropped by Delilah in Los Angeles to show support for the brand she's been a spokesperson for since 2017. She sported a sheer top, printed cargo jeans, and a pretty neutral-mauve lip that fell right in line with Hadid's signature beauty style.
According to a press release, makeup artist Mary Phillips used the new Dior Addict Stellar Shine lipstick in the deep-taupe "Sideral" hue. Available in 34 shades, the formula is designed to give you bold color with a high-gloss finish. It even includes beeswax and aloe vera for extra hydration throughout the day.
Hadid's natural shade complemented her dark lids perfectly. Perhaps that's why she steers clear of a bold lip anyway: She just can't part with her signature smoky eye, and, well, it's not always easy to combine the two.
If you, too, are a nude lipstick lover, you'll be obsessed with Hadid's latest shade. Shop the model's go-to and similar alternatives, ahead.
Shop The Look