I Wore This Liquid Eyeliner For 2 Days Straight And It Never Moved
AntonelloTrio/Imaxtree.com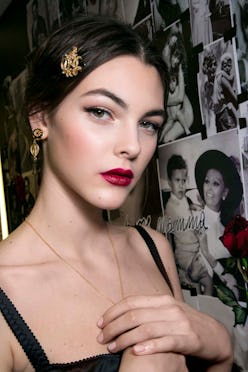 I wear a cat eye almost every day. Some days I nail it, others I look a little off-kilter, but none are as perfect as the one I created this past Saturday. It's unclear whether my steady hand or the super-skinny brush tip on my new liquid liner are to thank, but I'm asking questions.
It's early on a Saturday afternoon and I have a long day and night ahead of me, so I'm just grateful my makeup is on point. I run a few errands, then head to dinner, which leads to drinks with friends. By the time I make it home, I break the biggest rule of all and go to sleep in my makeup. Sure, I'm risking clogged pores and early signs of aging, but the discovery I make when I wake up makes me feel a little less guilty.
I rise later than I had hoped. I have to pick up dry cleaning, do my grocery shopping for the week and get to a lunch date with my mom. I drag myself out of bed and while brushing my teeth in front of the mirror, I realize my cat eye is not only still on from yesterday afternoon but it still looks good. It hasn't faded or smudged, and the wing is still as crisp as the moment I first (flawlessly, I must add) swiped it on. If it ain't broke, don't fix it, so instead of washing my face, I use a face wipe and toner, jump in the shower and apply light makeup before heading out. I seriously can't get over it. My wing makes me look like I spent more than a couple of (mildly hungover) minutes getting ready.
By the time I get home at 5pm, I'm exhausted. I plop down on the couch and start my Sunday ritual—find something to watch on Netflix, give myself a facial and get ready for the week ahead. That's when I realize I've now been wearing the same It Cosmetics' Superhero Liner for more than 24 hours. I approach the mirror cautiously expecting to see Margot Robbie in I, Tonya but to my surprise, it hasn't moved, faded or smudged one bit. After briefly contemplating never, ever taking it off, I reluctantly accept that all good things must come to an end. Farewell, beautiful wings. Luckily, it comes off just as easily as it goes on. Rather than shame myself for removing my eye makeup for the first time all weekend, I revel in my new discovery. Laziness pays, ladies. And with that, I move the product from my vanity into my everyday makeup bag.
Sunday Skin Cleanse
Shop my favorite skin essentials for a Sunday-evening cleanse session.