Bella Hadid Can't Live Without This Hair Product (& It's So Easy To Use)
Tibrina Hobson/Getty Images Entertainment/Getty Images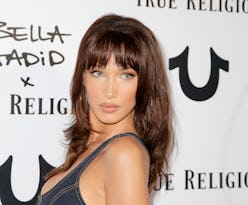 If you're one who looks at Bella Hadid's perfectly messy hair with envy, then now's your chance to recreate that coveted just-woke-up look at home. The model has done her fans a big favor by revealing her best-kept secret on Instagram, and it won't even cost you a fortune. The hair product Bella Hadid reportedly "can't live without" is a $36 texturizing spray.
This 22-year-old has truly mastered the art of messy hair. Somehow, she always pulls off that last-minute bun look that the rest of us spend an hour trying to perfect in the mirror, or a wispy twist just the right amount of unkempt. It kind of makes you wonder if she has to put any effort into it at all.
However, Hadid just confirmed via Instagram story that she doesn't, in fact, just wake up like that. The model at least gives her brunette hair a quick spritz of Sam McKnight's texture mist before she starts her day.
She posted a photo of the little lavender bottle on her Instagram Story Fri., saying, "Can someone pls tell @sammcknight1 I am out of my texture mist again ... I just can't live without this."
The Cool Girl Barely There Texture Mist, as it's called, is a lightweight formula designed to give even the silkiest straight hair a bit of dimension and texture, lending to that untidy look we all wish we just rolled out of bed with.
"The trick to Cool Girl hair is making it look like you haven't even tried," hair guru Sam McKnight said about the tousled style Hadid pulls off so well. "It's the antithesis to done hair."
As ironic as it sounds, this formula aims to undo your hair. The miracle mist will leave it with a subtle fresh floral scent and, hey, that $36 price tag is tough to pass up as well. Hadid's favorite spray and more of The Zoe Report's favorite texturizing products, ahead.
Shop The Products