This Allen Schwartz Capsule Is The Sleekest Way To Channel The '90s
COURTESY OF ALLEN SCHWARTZ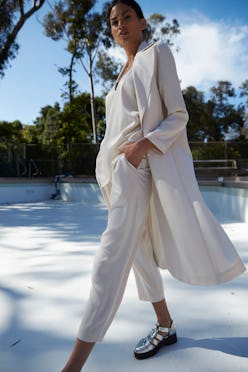 You don't have to look very far to spot a '90s reference when shopping these days — the decade has served as inspiration for everything from ready-to-wear to beauty as of late. And while there are plenty of ways to bring the vibe into your wardrobe, if you're trying to nail a '90s look in a more elevated, timeless way, look no further than Allen Schwartz's LA capsule collection. The Los Angeles-based brand is serving up a range of sleek, no-fuss styles — think matte-satin cargo pants and effortless slip dresses — that you'll be reaching for all summer long.
To celebrate its first ever pop-up at Platform Los Angeles, Allen Schwartz has launched a collection that's inspired by the brand's Los Angeles heritage. The 14-piece capsule retails from $215 to $500, and is currently available for California shoppers at Platform LA until June 30th. However, for those who reside in other parts of the country, don't worry: You can shop a curated selection of pieces from the capsule online.
For many fashion lovers, this is probably not the first time you've come across the Allen Schwartz name. ABS by Allen Schwartz was big in the '90s and worn by actresses like Sharon Stone and Michelle Pfeiffer, among others (you may even find you have a dress hanging in your own closet from brand). However, in 2017 the brand was re-imagined and Schwartz launched Allen Schwartz — an advanced contemporary womenswear collection — with Bianca Bernal as the designer and creative director.
Since the brand's launch, it's been spotted on style influencers such as Shea Marie and Alyssa Coscarelli as well as celebs like Jenna Dewan and Gabrielle Union, so there's no doubt this super-chic, summer-ready capsule will be popping up on some more famous faces soon. That said, since production is set in small batches, you'll want to start shopping sooner rather than later to make sure you don't miss out.
What will you find in the mix? As previously mentioned, there's a cargo pant you should set your eyes on stat, especially if you're trying to break free from your denim-only rotation. The loose-fitting, high-waist Lexy Cargo Pant rings in for $395 and is offered in a neutral eggshell white or a light baby pink.
The flowy pant will easily match up with the deep V-neck, satin Alannah Asymmetrical Cami, $215, in either a white or champagne hue. Bring the look together by slipping on a pair of barely-there strappy sandals, popping in a set of modern danglers, and throwing the $395 Carmen Satin Jacket over your shoulders.
Of course, if you're after a dress there are two equally head-turning options to choose from. The first? The thin-strapped Jagger Asymmetrical Slip Dress for $395. Though if you're eager to bring a dose of a seasonal favorite color into your wardrobe, you'll likely find the "Electric Coral" and "Lime" colorways of the Desiree Open Back Dress, $500, particularly appealing.
Continue on to begin shopping pieces from the capsule, and head over to the site to few the rest of the collection's online selection.