This Classic Sneaker Is About To Get A Very Sustainable Makeover
Onnie A Koski/WWD/Shutterstock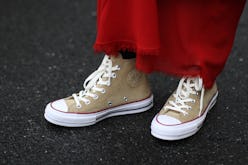 Even as each passing year brings forth new sneaker trends, Converse's ubiquitous Chuck Taylor All Star remains true to itself. Sure, the footwear brand indulges in seasonal colorways (and collaborations with the likes of Comme des Garçons, Shrimps, and OPI) but the basic silhouette stays the same: the white toe cap, the low soles, and the enduring star-shaped logo. So, it should come as no surprise that you'll be able to recognize the sneakers from Converse's Renew initiative, even though it's something extremely different for the brand. Announced June 26 on its parent company Nike, Inc.'s corporate website, the upcoming Renew Initiative shoes will be made from recycled materials — some even sourced from discarded plastic bottles.
And no, you won't be able to tell just by glancing at the shoes. The Converse Renew Canvas styles will be dropping first, landing on Converse's website July 5. (You can click over to it beforehand to sign up to be notified of the launch ASAP.) The inaugural release may be the boldest of the entire initiative, as well: Available as Chuck Taylor All Stars and Chuck 70s, the Renew Canvas shoes are made from 100 percent recycled polyester created from old plastic bottles.
Converse isn't stopping there, though. The brand will be releasing a series of Chuck 70 shoes made from upcycled denim — known as Renew Denim — this August, followed by a recycled cotton collection called Renew Cotton in spring 2020. Notably, both new collections keep previously unwanted fabrics from ever touching landfills; jeans used by the Renew Denim collection will be diverted entirely, while Renew Cotton uses 40 percent leftover manufacturing scraps to create its all-new yarn.
Observant sneakerheads may be noticing a pattern here — in a good way. Nike publicly announced joining the UN Fashion Industry Charter for Climate Action on its corporate website June 24, just two days before it revealed the Converse Renew collection. While the climate change-combating charter's website details its many goals, Nike pointed out a major one on its own site: reducing greenhouse gas emissions 30 percent by 2030.
"Issues as big and complex as climate change call for us to collaborate across our industry and beyond," reads a quote by Nike's Chief Sustainability Officer, Noel Kinder, on the brand's website. "That's why we're committed to doing just that in partnership with UN Climate Change — teaming up with peers and partners across sectors to do what's right for our planet and for the future of sport."
Don't forget to shop the first release from Converse Renew on the brand's website July 5.