BaubleBar Has A Ton Of Statement Jewelry For $10 Right Now & Things Are Going To Go Fast
BaubleBar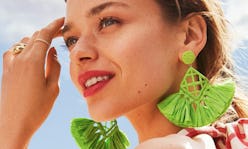 Time to make some room in your jewelry box: BaubleBar's $10 Event is here, and it's a treasure trove of statement jewelry pieces. From layered necklaces and beaded bracelets to head-turning earrings and colorful rings, the affordable jewelry destination's major sale will allow you to bring a fresh spin to your summer outfits for an incredibly low cost.
Running from now until Aug. 6, BaubleBar's savings event will give you the opportunity to scoop up multiple styles for what you would typically pay for just one piece. Take these vacation-ready, red raffia danglers: Normally this duo would run you $44, but now that they're only $10, you can snag two additional pieces and still spend less than you would have on just the earrings.
On top of that, there are a slew of pieces within the sale that hit on this season's most popular jewelry trends, including several heart-shaped earring styles. You can go bold with the minty green Vionnet Heart Drop Earrings (normally $42), or you can pick up the playful Fiona Huggie Hoop Earrings, which boast an enamel green heart. Either style will bring a charming touch to an outfit that needs a little something special.
Of course, when it comes to jewelry trends that took over this summer, seashell styles are at the top of the list. And, if you're looking to bring a few more into your lineup, you'll find shells on everything from a layered pendant necklace to a dainty beaded bracelet. However, it's this single-drop earring that's a real standout in the group. Regularly priced at $24, the earring features a shell with pearl detailing, nailing two trends in one.
But, if you tend to gravitate toward clean, minimal pieces, there are options for you as well. Begin by scoping out the Faidra Resin Drop Earring, a wildly popular style that's available in a couple of colors in the sale. Or, you can opt for the simplicity of a modern lucite hoop earring.
Continue on to see a selection of the styles you can score for *just* $10 during the sale, and head to BaubleBar to view the rest before everything is inevitably scooped up.