These $34 Earrings Had A 5,000-Person Waitlist — And They're Back At BaubleBar Right Now
BaubleBar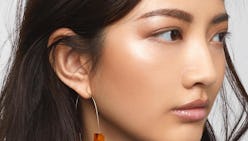 When thinking of how to change up an outfit, often your first thought is to switch in a new bag or shoe. But an even easier (and typically more cost effective) way to breathe new life into a look is by adding affordable statement earrings. If you've been inspired by the attention-grabbing earrings on the runways from New York to Paris for SS19, where better to find the finishing touch to your look for this season than at the always-fun jewelry brand BaubleBar? And with a bestseller back in stock, it's the prime time to start shopping.
A treasure trove of trend driven styles that won't break the bank, BaubleBar is a one-stop shop to fill your jewelry box with everything from delicate rings and layering necklaces to statement pieces like the Faidra Resin Drop Earrings. A wildly popular style for the brand, the $34 navy drop earrings are one of the brand's top sellers for the year — and they're now back in stock.
Clearly a standout for BaubleBar, the popularity of the earrings has continued to grow, even racking a 5,000-person waitlist. And it's easy to see why: The resin and acrylic earring trend made a splash this year, and you couldn't scroll through the 'Gram this summer without seeing your favorite fashion girls wearing the eye-catching style.
The Faidra's modern design combined with a pop of color makes it a pair that can easily be the star of the show or bring even more to a look that needs just a little extra something. At $34, you may want to pick up this versatile set in a few different colors while it's still in stock.
It just so happens that it comes in eight other variations, some of which are available for pre-order and others you can add to cart right now. From staples like white and black to a vibrant multi-colored purple pair, it will be hard not to find a shade (or two) that you'll want to own ASAP.
Included in the "available now" mix is a pearly pink that will not only add a colorful touch to your fall neutrals, but will play well with all the rich hues of navy, emerald, and burgundy (among others) that you'll be wearing from now through the holiday season. Continue on to shop the additional available colors of this coveted style before they're gone.