If You Have Classic Style, You're Closet Is In Dire Need Of This New Brand
Courtesy of Bande Noir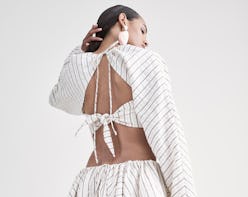 I've always had a taste for the sophisticated. While I drank the American Eagle, Abercrombie, and Hollister Kool-Aid like the best of them as an early teen, my style took a turn for the mature in high school. Crisp shirts and tailored outerwear became my signature while sculptural earrings and heels were my kryptonite. Cut to my 20s as a New Yorker working in the fashion industry, and you can imagine my devotion to stylish skirts, polished dresses, and smartly feminine tops remained, but my budget relegated me to shopping exclusively fast fashion. Now at 30, I've traded in my strict shopping diet of Zara and H&M for polished contemporary brands, with my latest obsession being Bande Noir, a newly launched contemporary clothing brand that suits anyone whose taste is polished and directional, like mine.
"It always struck me that in the advanced contemporary market, most collections feel so young and trendy," Bande Noir's creative director, Mayte Allende tells me over email. "The woman who has the buying power to purchase a $500-plus dress is most likely not in her twenties, yet most of the collections out there don't speak to a professional, sophisticated lady." I couldn't identify with this more.
"There's a white space," Allende adds. "I see it all around in the way my colleagues and friends dress and shop."
Corseted tees, structured tops, and tailored separates fill Bande Noir's debut collection for Fall/Winter 2018 — which just became available via brand's own e-commerce site — with a few whimsical touches like the Caprice Top which is an attention-grabbing sheer polka dot blouse with dramatic puffed sleeves and a romantic bow-tie closure.
"My vision was to create a collection within the advanced contemporary realm that served women, not trends, not the industry, not the retailers. Pieces that could be worn from day to evening, season through season, year after year," Allende says of the label's origins which is named after the French term for butterfly, Azuré des nerpruns, more commonly referred to as the Argus à bande noire.
"When I think of the women around me, they all have that common denominator — they are kind, beautiful, soft mannered, feminine yet strong, confident, and successful," Allende says. "The collection, therefore reflects them — our deck is pretty on point I have to say: 'Anchored in the tension between delicate female allure and powerful masculine practicality'."
To deliver on this forward sense of practical dressing, Allende focuses on fabric and fit when designing the collection.
"It's my number one goal to make the collection look and feel super expensive. Today's woman is very knowledgeable and you have to deliver the best product possible. I strive to use fabrics that look and feel the part while keeping the cuts and silhouettes elevated, polished, and sophisticated," Allende says.
The creative director explains how it's also a goal of hers to create a collection of pieces that appear polished and effortless, but with an attitude that appeals to those who crave a distinctive look, regardless of trends.
"Clothes are a compliment to you, not the other way around. There is nothing chicer than a woman who is above all the fashion nonsense and trends," Allende says.
Now, with three collections now under her belt — Fall/Winter 2018, Resort 2018, and Spring/Summer 2019 — Allende has established core designs that come with a dose of masculinity and romanticism.
"A key silhouette for me is the wrap dress — we do a lot of them because I find that it [looks great on] a lot of shapes and moods. If you feel sexy, you can wrap it tight and accentuate your shape. If you're feeling more modest you can wrap it loosely."
High-waisted skirts and pants are key players in the Bande Noir lineup, but the multi-wrap Alana top is one that has become a brand signature and the first piece Allende designed for her debut collection.
"It's this amazing jersey shirt which ties around the bust into a bandeau or a corset. When I wear it people stop me, it's the best feeling. It can be worn with jeans on the weekend or for date night, or under a blazer or suit for work. Who does not want a beautiful feminine tee to wear with jeans every single day?" Allende says.
Bande Noir has already garnered retail attention from the Chicago-based boutique Ami Ami, with more retail partners lining up for Spring/Summer 2019.
"We decided to pick it up because I was personally excited about it," says Ami Ami boutique owner, Merrie Spade. "I loved the jackets and shirts, and I knew it would fit in with the other designers I carry…The contrast of feminine vs. edgy is a nice touch and just perfect for my customer."
Still in its first year, Bande Noir is already strategizing expansion with long-term goals of growing into a full-fledged lifestyle brand with dreams of opening a freestanding store.
"We know this woman, we are this woman, and I want to build a service-oriented relationship with her as our customer," Allende says.
Ahead, shop favorites from Bande Noir's debut collection.