Artis Is Kicking Off A New Brush Collection With A *Very* Limited Launch
Courtesy of Artis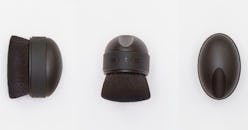 Memorial Day Weekend may have come and gone, but that doesn't mean a total end to all the most amazing deals of the season — after all, summer's just getting started, and the promise of more great shopping events and product launches hangs in the air. Leading the pack of post-long weekend shopping surprises is cult-loved beauty tool brand Artis, which just so happens to be celebrating its birthday with big savings, and the exciting launch of the Artis Elite Black Palm Brush Mini. But with very limited supplies, this fresh buy won't last long — so grab it while you can.
Just as the dust settles after the flurry of fantastic holiday weekend sales, one beauty brand is keeping the good times going. Luxury makeup brush brand Artis is celebrating its fifth birthday with a 5 Days of Giving shopping event, complete with fresh deals each day from May 27 through May 31. And just in case five days of a surprising, splurge-worthy discounts wasn't enough to excite you, the brand has something else up its sleeve — the launch of a brand-new brush line.
In fall 2019, Artis will officially launch its latest line of pro-level brushes, Elite Black: The Artisan's Tool. And even though the new product range won't be available for a while, Artis couldn't help but release a sneak peak during its birthday celebrations. But fans won't just be able to see what's coming — they can actually get ahead of the crowd by snagging up an exclusive (and very limited-edition) brush from the forthcoming line. The Elite Black Palm Brush Mini will be up for grabs on May 30 for $55, but with only 50 available for advance purchase on this day, you'll have to act fast.
The brand-new brush, which will be included in the full lineup of Elite Black: The Artisan's Tool upon its fall debut, features a handle-less design and was crafted with cosmetics and skincare application in mind. Its compact size is travel friendly, and ideal for blending product into smaller areas of the face for a smooth and even effect. Use it for foundation, concealer, bronzers and blush, or for concentrated and targeted application of skin care creams.
The Elite Black Palm Brush Mini fits comfortably in the palm of your hand so you can effortlessly sweep it across your face in natural, no-fuss motions. Use the finger indent at the top to stabilize the brush so each movement is controlled and precise — a grip pad that encircles the Palm Brush Mini provides further support for a slip-free application.
Do yourself a favor and don't snooze on this deal. Jump over to Artis' website ASAP to be among the lucky few that get their hands on the brand's newest innovation.