I Test-Drove Reformation's New Stilettos To See If They're Actually Comfortable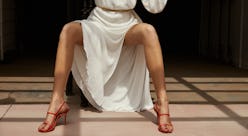 I live in New York, walking something upwards of 10,000 steps a day, and constantly hiking up and down subway stairs on my way to and from the office. I am not a high heels person. Something small and kitten-like maybe, or a chunky block heel — sure! But anything high and spindly is generally more health risk than fashion statement for me. Still, as a fashion editor, I'm always game to challenge my styling habits. So, when cool-girl clothing line Reformation launched shoes, I was ready to review their new heels for myself.
For those whose closets are already chock-full of the brand's floaty occasion dresses, cheeky tops, and snug vintage jeans, adding footwear into the mix is a no-brainer. And while I was instantly attracted to some of the new low-heeled styles, I made it my mission to road test the tallest of them all — the strappy, '90s-inspired Isabelle sandals. A few years ago, after one unfortunately long day wearing stilettos during fashion week, I've mostly sworn off any shoe that risks that sharp, stabbing pain in the ball of your foot. But, I can happily say that while adding a few inches to me 5'9" frame, I spent an entire evening on my feet without ever wanting to take Reformation's new sandals off.
After posting a photo of me wearing the sandals on Instagram, I was instantly hit with a number of messages, all asking about the new shoes' comfort. Footwear has been the number one request from the brand's customers, so the launch came with sizable buzz. With many friends who are avid fans of the brand's eco and socially-conscious ready-to-wear pieces, they were curious about if the shoes would live up to the hype.
While I may not make the leap to start wearing them on my 30-minute commute to the office, they're the ideal evening shoe — great for dressing up jeans and a T-shirt, or a sleek pairing with a date-night dress. And, for those occasion when I'm planning to get up from the bar and do a bit of dancing, I'm pleasantly impressed with my mobility. But, for those who aren't totally on board with a slinky stiletto, the brand also launched a number of other styles, from a block-heeled ankle-wrap sandal, to a trendy thong with a kitten heels. And for everyday, there are a few flat options to test out too.
In keeping with the brands ethos, the shoe styles are made with eco-friendly materials that help to reduce waste by 65 percent as compared to other U.S. shoe manufacturers. By relying on chrome-free leather and jute as key materials, the brand worked to make the most sustainable shoe possible. So, not only are the comfortable, but they're a more satisfying purchase than a new pair of summer sandals from a fast fashion retailer without the same environmental impact goals.
For those interested in shopping for other styleways from Reformation's new launch, I've shared a few of my favorites below. Heads up: you'll want to nab them quickly since they send to sell out.