3 Must-Know Brands Ditching Gendered Clothing At NYFW
Photo: Courtesy of Nanushka.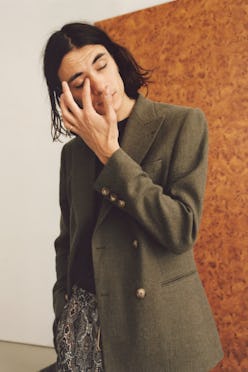 Forget that whole "borrowed from the boys" thing. For the Fall/Winter 2019 season, some designers at New York Fashion Week are abandoning the gender divide altogether, and with good reason. No longer is it a "sneaky" concept to shop from the men's section, and androgynous runway models aren't just token arbiters of cool. Instead, more and more brands are showing collections of gender-neutral clothes — and it's working.
Of course, a handful of shows remain hyper-feminine: Designers like Tory Burch, Kate Spade, and Brandon Maxwell, who dedicated his show to strong women in his life according to his show notes, were equally exciting this season. But it's becoming far more common to not just pull inspiration from menswear during women's season, but rather, to mix the two outright — all in one show.
In fact, just as the gender spectrum is so much more than just male or female, unisex seems to be becoming the name of the game, and the collections are beginning to reflect the nuances of the concept of gender in 2019. There are brands like Bode, which is marketed on-site as a menswear brand is sold Vancouver retailer Garmentory on both male and female models. And then there's BLDWN, whose collection of womenswear was flanked by a two-piece menswear debut that felt neither masculine or feminine, really — and it's refreshing to see. Read on for the shows that are bending antiquated rules about who, exactly, can wear what.
Bode
Made between New York and New Dheli, Emily Adams Bode's eponymous label has a vision that goes beyond gender. Though it's positioned as a menswear brand, it's clear that styles from this collection are open to a vast range of interpretation, not to mention technically being shown during women's week as opposed to men's.
In fact, some looks were finished off with saccharine ballet flats, or featured traditionally feminine details like shiny embellishments, whimsical kickflares, floral motifs, shorter pant and short lengths, and brighter hues that perhaps at one point in time would have been dubbed too "feminine" for a menswear label. The collection was worn by models with long locks and chic coifs; the old rules simply no longer apply, because we were taking styling notes left and right and making a mental shopping list all the while.
Nanushka
Industry-sweetheart Nanushka launched menswear at its buzzy presentation in New York on Feb. 8, but the crowd of bloggers and fashion insiders couldn't help but chatter over which men's pieces they were eyeing. Some were set on the paisley-printed short-sleeve button-down; others had called out the deep brown wrap coat in a soft cord.
Already known for its soft knits and relaxed outerwear, Nanushka menswear delivered the elements of the brand you know and love, and felt like a natural progression for the label. "Nanushka's debut menswear collection draws inspiration from the free-spirited nomadic lifestyle in correlation with contemporary functionalism," the press notes read. "The line is an organic, yet reinvented simulation of the brand's womenswear collections, which both can presently harmonize together. The Nanushka man's archetype is equally complex and mystifying as he is deeply drawn to ancient cultures and values, incorporating those into his lifestyle with ease."
But what's the difference from the Nanushka woman, really? Though it was positioned as two separate collections, the pieces blurred into one unified offering that welcomes both markets to dabble in one other.
Eckhaus Latta
Mike Eckhaus and Zoe Latta have long been proponents of blurring gender lines, and this collection was no different. Instead of just showing menswear-like blazers on women, or a mid-length skirt over pants on a man, the brand seemed to cast looks based on personality, not gender. That means men wore puffed sleeves, cargo pants, and schlubby knits; women wore floor-length fur coats, oversized tuxedo pants, and other silhouettes that didn't touch their bodies. (Not a new concept, but a novel one nonetheless.)
The designers are all for featuring both men and women in their NYFW show, and while the brand showed some more fitted minidresses, elegant gowns, and structured tops than previous knit-heavy collections, we venture to say all the pieces are fair game for all who want to wear them. The standout piece that left everyone in the audience lusting was a boxy, nubby teddy coat, perfectly non-gendered with an oversized fit made for just about anyone.
While many critics often point to precise tailoring as a requisite for any successful collection (which was in abundance at the brand's Feb. 9 show), this season, the materials shined — sometimes, quite literally. In addition to the heavy-weight denim and thick-spun knits, the metallic jacquard kept the collection feeling squarely Eckhaus Latta.