That Velvet Accent Chair You've Been Eyeing Is 50 Percent Off At Anthropologie Right Now
Anthropologie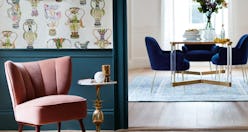 Remember when Anthropologie released its luxurious velvet-covered home collection last spring, and everyone simultaneously put a dreamy velvet accent chair on their decor wish lists? If not — or if you've been waiting for the glam furniture to go on sale — then get ready to make space in your living room. Anthropologie's home sale has majorly reduced the prices on the trendy chairs, amongst other swoon-worthy bohemian furniture pieces.
Though the velvet chairs on sale share the spring 2018 home collection's vibe, that doesn't mean they won't be just as on-trend this year. The chairs' bright hues and engaging silhouettes are in-line with upcoming 2019 home decor trends; and honestly, since the fabric is so closely tied to timelessly luxurious aesthetics like Rococo and Hollywood Regency, will a well-made velvet chair ever go out of style?
Moreover, Anthropologie's discounted prices are even better than they seem: The store is offering an additional 50 percent off of its home sale section. The discount appears in your cart on applicable pieces, so you don't have to type in any promo code. To give you an idea on how the sale works, the discount instantly reduced the price of this originally $398.01 velvet dining chair — on sale for $199.95 — to a wallet-friendlier $99.98.
Beyond the dining room, velvet's soft warmth looks just as incredible in your living room or bedroom. Originally marked down to $599.95 from $898.01, this mid-century modern velvet chair would look at home in either space, and will only cost you $299.98 during the sale. The discount price is a steal for such a well-constructed chair: the chair features light gray velvet, vintage-inspired brass accents, and a birch frame finished in a walnut-colored shade and moisture-resistant clear lacquer.
But remember, both of these chairs are just two pieces from Anthropologie's giant home sale section, so that means there are so many other steeply discounted selections to shop. Ahead, a quick roundup of discounted velvet chairs 50 percent off during the sale, plus a few additional furniture pieces to complete the look.