Anne Hathaway Just Made This Risky Haircut Look *So* Wearable
Matt Winkelmeyer/Getty Images Entertainment/Getty Images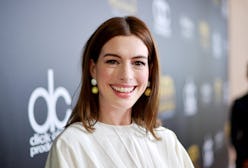 From the back of your closet to the backseat of your car, springtime is an optimal time to Marie Kondo your life. And just like your masterfully organized shoe rack, Anne Hathaway's new shag haircut certainly sparks joy. The choppy, '70s-inspired style is a fresh update to the 36-year-old's usual messy lob, proving how a bit of fringe can instantly add an ultra-cool edge to your look for spring. "New cut. New vibes," hairstylist Adir Abergel posted to Instagram on Sat., showcasing the new look from a few different angles.
In the black and white snap, Hathaway's freshly chopped strands drape down effortlessly, showcasing the actor's doe-eyed gaze and signature pursed pout. Alongside subtle black liner and a nude lip, Hathaway's deep, shiny locks stole the show. Cascading down in satisfyingly smooth waves, the face-framing strands fell over the Princess Diaries star's eyes for that slightly disheveled chicness French girls approve of.
"This cut is perfect if you have straight or wavy hair," Abergel explained, breaking down step-by-step styling instructions for the laid-back look that pairs well with Western-inspired trends of the season, such as fringe and cowboy boots. In another snap, Hathaway leans forward to showcase the hairstyle's tousled texture and red-brown hue, making a convincing case for the updated summer shag.
As temperatures continue to rise and summer grows nearer, a fresh, airy chop becomes an increasingly tempting beauty move. Seasonal transitions are a perfect reason for a fun and flirty hair update, and this textured look is a promising option for humid summer days.
As Abergel explained, this cut is even easier for wavy-haired ladies, because the layers will allow you to lean into your texture which seems to have a mind of its own, especially in the summer. If you're feeling inspired to phone the salon, shop the hairstylist's product picks below, alongside his styling tips for the breezy, retro chop.
Shop The Products