If You Ever Wanted To Be Like Anna Wintour, Her New MasterClass Might Be Your Chance
Mike Coppola/Getty Images Entertainment/Getty Images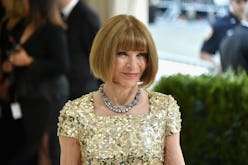 Don't we all just want to be Anna Wintour when we grow up? The London-born magazine editor has had arguably more influence on fashion over the past half-century than Rihanna, Madonna, and Princess Di combined. Now, Anna Wintour's MasterClass series is offering rare insight into her leadership style.
It must be the way she hides behind those blunt bangs and oversized sunglasses, closed up in her corner office at the top of Condé Nast's Lower Manhattan headquarters most of the time, that makes Wintour as mysterious as royalty.
Since joining Vogue 30 years ago, she's been known as fashion's queen bee. Whatever trend you see on the streets must meet her standard of quality. Only a crown-wearing, castle-dwelling majesty has this much authority. It's enough to make one wonder what about her makes the industry bow indubitably at her feet.
"I know many people are curious about who I am and how I approach my work," she says in a trailer for her new MasterClass series. "This is a class for those who want to understand my leadership style and then understand the experiences that have helped me become an effective leader."
So, basically, Anna Wintour is about to become your teacher.
You are — thanks to the genius who put this invaluable 12-class program together — invited into the top-secret meetings that take place after Fashion Week, into the decisive moments before a controversial cover is printed, and into Wintour's own office, where she "shares her thoughts on developing a creative vision, recognizing talent, making tough decisions, and owning who you are, without apology," Vogue says.
This, in short, is an unusual opportunity to gather intel on the fashion empress' creative process and successful leadership style. It's for anyone who yearns for more inspiration, wants to be a better boss lady (in the fashion industry or not), or who is merely curious about the stories behind Vogue's most memorable covers (Kim Kardashian and Kanye West, Madonna ... ). She also talks about what goes on behind the scenes of the prestigious Met Gala and more.
The MasterClass launched on Thurs. and is available for $90 — or by a $180 unlimited subscription for the entire year — online or via the MasterClass app. Now, go build an empire, Anna Wintour-style.