This Is What Anna Wintour Says You Should Wear To A 'Vogue' Interview
Francois Durand/Getty Images Entertainment/Getty Images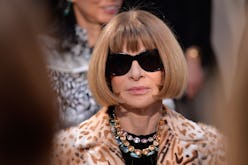 You've perfected your resume, sent in your application, and passed the timed edit tests. Next is the always nerve-wracking in-person interview, which becomes all the more intimidating when you're sitting across from a fashion powerhouse like Anna Wintour. So, how does one impress the most iconic of industry professionals? It's never a bad idea to start with your outfit — and Wintour just revealed exactly what you should wear to a Vogue interview (or, really, any interview).
In the latest episode of Vogue's "Go Ask Anna" series, the editor-in-chief responds to some of the most hard-hitting pop-culture and fashion questions of the year, including what she really thinks about the Kardashians and their style, her take on the ever-polarizing leggings trend (hint: it's really good), and how fashion week has changed over the years.
But the one question that really struck a chord, especially with those who have long dreamt of working for the iconic glossy, is when she was asked, "What would one wear to an interview at Vogue?" Prepare to take notes, because Wintour just answered one of the most pressing, widely debated fashion questions of the decade.
"It's so interesting to me how people dress when they come in for interviews," she says, adding, "Sometimes you feel they're wearing clothes that they just bought that morning or maybe the night before and not something that in any way suits their personality and who they are."
So, if buying a new interview outfit isn't the way to go, what should one wear when meeting their potential new boss? According to Wintour, stick with an ensemble you feel completely comfortable in — something that's true to your own personal style and offers a glimpse of who you are.
"I think what everybody should remember, whether they're interviewing at Vogue or indeed anywhere, is that we're not hiring your wardrobe," Wintour explains. "Your wardrobe is not going to be doing the job for you. It's who you are...You have to dress for yourself," she adds. "I think it doesn't do yourself a service to fake it."
So, there you have it: Don't pick an outfit because you think it's what you potential new boss wants you to wear. Instead, dress for yourself — and that's sure to win over anyone.
Shop The Zoe Report's roundup of striking interview staples guaranteed to liven up your business wardrobe in seconds, below.
Shop The Look