Anna Wintour's Floral Summer Dress Might Not Be Groundbreaking, But It's Oh-So Chic
Mike Coppola/Getty Images Entertainment/Getty Images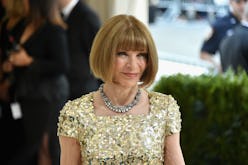 There isn't a day that goes by that Anna Wintour isn't wearing a floral maxi dress. The Vogue editor puts pants on only once a decade, it seems, and now is not one of those times. Her latest botanical print isn't exactly groundbreaking, but it does confirm that this 69-year-old icon is the epitome of chic.
It certainly isn't difficult to predict what Anna Wintour will wear tomorrow or the day after that because, despite being one of the most influential people in fashion (if not the most), she pretty much wears the same thing every day.
After running the industry for decades, the girl knows what works for her and she's sticking with it for the long run. Her day-to-day look is rarely without a printed maxi dress of some sort, a chunky necklace, and boots (or strappy heels, depending on the season), not to mention those signature sunglasses about 75 percent of the time.
That's precisely the ensemble she wore to Thurs. evening's Broadway opening of Moulin Rouge! The Musical. She arrived at Al Hirschfeld Theater in a print as bright as the red carpet. Her maxi was adorned with allover poppies.
It featured black tulle around the hemline and puff sleeves because, if you haven't noticed, Wintour is partial to a bit of retro flair (she was in her 30s during the '80s, after all).
She wore the floor-length statement dress before with a pair of black boots to The Association For Frontotemporal Degeneration's Hope Rising Benefit in Oct. This time, she paired it with nude Manolo Blahniks — the usual — layered necklaces of clear beads, and sunnies even though it was evening.
Now, before you go cutting your hair into a pageboy bob, there's an easier way to make Wintour your muse. All you need is a few maxis with bold prints, a pair of neutral sandal heels, a chunky necklace, and boom! Your colleagues will be calling on you for fashion counsel by tomorrow. A few floral dresses to get the inspiration flowing, ahead.
Shop The Look