The One Handbag Trend You Need In Your Closet This Fall, According To Zara
ZARA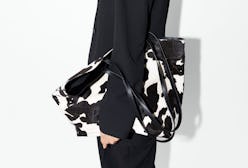 As you begin to dive deeper into your fall shopping, you may be left wondering what purse trends you should invest in. Well, according to Zara's new arrivals, animal-print bags are a closet essential for the season ahead. The fashion-girl favorite retailer for affordable buys is serving up a slew of bags featuring everything from leopard and zebra prints to a graphic cow print that's available in a trio of photo-worthy styles.
While this trend isn't exactly new, it's clear by Zara's latest offerings that the retailer is betting big on the animal-print accessory to continue to be a hot-ticket item for another season. And, it's easy to see why, given that neutral spots and stripes bring a pop of interest to any outfit yet also manage to be versatile enough to wear with basically everything in your closet.
Within Zara's lineup, there's no doubt that cow print is the most prevalent. The retailer used the bold black and white pattern on three different leather bag shapes: a clutch for $89.90, a shopper for $129, and a crossbody silhouette with handles that rings in for $89.90. So, if you fell in love with the idea of bringing these eye-catching spots into your look after seeing them styled in Tory Burch's Pre-Fall 2019 collection or in Burberry's Spring 2019 show and still haven't given them a try, now's the time.
Another equally bold bag in the mix is the Safari Mini Crossbody Bag, which brings earthy shades of green and brown to the traditional white and black striped zebra pattern. Priced at $39.90, the structured bag is adorned with a sleek circular metal closure that gives it a modern feel.
Of course, if you still can't get enough of the ever-so-popular leopard print, this sparkly beaded drawstring bag for $49.90 may be right up your alley. Come this fall, consider pairing the swingy style with jeans and a simple sweater to really let it shine, or match it up with your cocktail attire to add an unexpected element.
Continue on to scope out the animal-print styles currently up for grabs at Zara.