Anastasia Beverly Hills' Norvina Collection Explained, According To Norvina Herself
Anastasia Beverly Hills/Instagram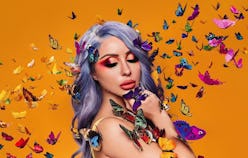 "From the beginning, I knew we had to do something big and out of the box," says the President of Anastasia Beverly Hills, Claudia Soare (or as she's more commonly known in the beauty industry, Norvina), to The Zoe Report over email. This arrives just days after Anastasia Beverly Hills' Norvina Pro Pigment Palette Vol. 3 dropped online Sept. 26 — making it the third and final palette in the Norvina Collection, an expansive, colorful makeup lineup released in lightning-fast succession by the cult-favorite beauty brand. (For the record, the Norvina Pro Pigment Palette Vol. 1 dropped exactly one month prior, on Aug. 26.)
The speed wasn't the only thing that caught fans' eyes: Each $60 Pro Pigment Palette from Anastasia Beverly Hills' Norvina Collection contains 25 pans of color, nearly double in size from the brand's standard 14-shadow palettes. They're uniformly titled, too; gone are any tongue-in-cheek shadow names typically found beneath the pan of any brand.
"The palettes themselves are so different from most eyeshadow palettes on the market, so I knew they'd stand out in that regard. But the vision was so much bigger, I wanted the visuals to be out of this world," Soare continues. "I worked very closely with my studio team to create little worlds for each palette. Bringing these concepts to life through wardrobe, set design, and makeup really set this launch apart from past launches."
And while a bigger, rainbow-hued collection may feel like something completely new for fans of the brand, it was time for Anastasia Beverly Hills to take it on. "Something that I constantly see on social media is that there's a major outcry for more colorful, out-of-the-box makeup, specifically eyeshadow. This year starting with the Riviera palette, I started to gently introduce more colorful shades into our traditional palettes to test if this call-out was something people really wanted," Soare explains. "The Riviera palette proved to me that there is a market for a collection like the Norvina Pro Pigments."
Each of the collection's palettes center around specific color stories, with the latest Vol. 3 drop featuring earthy, nature-inspired shades. "When it came to creating Norvina Pro Pigment Vol. 3, I was heavily influenced by vacationing in Costa Rica. The country's landscape is so lush and full of warmth, which is exactly what you'll find inside Volume 3," says Soare. "Naturally, people's eye gravitates towards natural tones, so I created warm browns, oranges, and deep wine shades for this palette. But you know I had to add a little Norvina in there for that colorful pop, so I also infused warm greens and pinks which pair effortlessly in this palette."
These new tones contrast the cool colors used in the previous two palettes, as well. "When it came to launching Volume 1, it was a no brainer to me, a color scheme centered around purple is something I personally identify with and is an easy entry into playing with color," Soare notes. "Volume 2 has a strong blue influence. This kind of color scheme can be scary for some; there's a very interesting, deep-rooted fear in wearing blue eyeshadow. This stems from makeup trends in the late '60s and into the '80s. Which is exactly why I wanted to create a palette centered around blue. The goal was to challenge makeup wearers and enthusiasts and show them through my campaigns that blue can be done right."
But with all of the Pro Pigment Palettes now available, fans have just one question — is this the end of the Norvina Collection? "I may or may not have future plans for Norvina," Soare teases. "But for sure. As a creator and artist, I'm always evolving. So growing the Norvina line is something you will definitely see from ABH."
Until then, shop the Norvina Pro Pigment Palette Vol. 3 below, available on AnastasiaBeverlyHills.com and at Sephora.