Anastasia Beverly Hills Just Introduced A Very Glamorous New Category
Courtesy of Anastasia Beverly Hills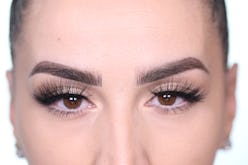 Anastasia Beverly Hills is a makeup brand that doesn't just dabble in new categories — it conquers them. Scroll through the brand's best-sellers page, and you'll see it spread evenly across various fan-favorite beauty categories; because while Anastasia Beverly Hills' iconic brow products certainly kick-started the brand's cult status, its eyeshadow palettes, liquid lipsticks, and more have had a hand in cementing it. And now, it's time for beauty fans to make room in their collections for the brand's latest line. Anastasia Beverly Hills' new False Lashes have officially arrived, marking the brand's first-ever lash launch.
Naturally, the new lashes are impressively long lasting. Although all of the sets are made out of vegan, synthetic fibers, the handmade lashes can be worn up to 20 times. On top of that, one set retails for just $12 on Anastasia Beverly Hills' website; you'll also be able to grab them online at Sephora, as well as in-store starting Oct. 31.
There are eight False Lashes shapes to choose from, and they range from full glam (like the luxe "Gorgina" False Lashes) to soft, long, and wispy (such as the "Fashion" False Lashes). Those new to falsies will gravitate towards the "Eleganza" lash set, as well; even though the unique set can only be worn up to five times according to its product description, the hidden lash band and natural-looking lashes make it well worth it.
False Lashes aren't Anastasia Beverly Hills' only new arrival. The beauty brand took to its Instagram account Oct. 28 to reveal two new Mini Norvina Pro Pigment Palettes (after eagle-eyed fans noticed the eyeshadow launches hidden in a post Claudia Soare, aka Norvina, made two days before). Both new limited-edition Norvina palettes — titled Mini Vol. 1 and Mini Vol. 2 — offer nine eyeshadow shades and retail for $29. And like the False Lashes, you'll be able to pick one up at your local Sephora starting Oct. 31.
Together, these two new launches mark an important first step for Anastasia Beverly Hills as a company: It's part of the beginning for its entirely new brand, Norvina. "In the future when you see a Spring ABH launch and a Spring Norvina launch it's as if two different brands launch product, not one launching all, however Norvina is very much owned by ABH," Norvina herself explained on Instagram. "Norvina products embody boldly colorful, whimsical artistry, and stand as the perfect counterpart to the best-selling core ABH brand."
Can't wait until you can shop the lashes and Norvina products in Sephora? Below, both new launches, available on AnastasiaBeverlyHills.com.