Anastasia Beverly Hills Is Launching A Gel Version Of Its Best-Selling Brow Pomade
Courtesy of Anastasia Beverly Hills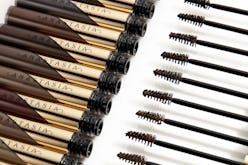 If you're going to take the time to do something, make every effort to do it well. Right? That's certainly the philosophy behind one cult-loved beauty brand's upcoming launch, which took a whopping three years to perfect. If you're a fan of Anastasia Beverly Hills' brow-refining products, get ready, because Anastasia Beverly Hills DIPBROW Gel is almost here — and it promises to give you naturally defined, beautiful brows.
Anastasia Beverly Hill's latest development will officially drop on its website on March 4 to design and define the brows of your dreams. The DIPBROW Gel is the beauty brand's first addition to its line of incredibly popular eyebrow products in about three years — and considering the brand's founder spent all this time working on developing it as the ideal brow gel, it's safe to say the product's going to be good (like, really good).
The forthcoming launch, priced at $18 per tube, is formulated to be a super pigmented, smudge-proof, and waterproof brow gel that adds definition, volume, and dimension to eyebrows for a naturally full appearance. The long-wear matte-gel formula promises to keep brows looking perfect for more than 12 hours, and once dried, won't melt, flake, or budge — whether it's applied to brow hairs or directly onto skin.
And if you've previously struggled to find a highly pigmented brow gel that actually matches your natural eyebrow color and complements your complexion, you'll be pleased to know that DIPBROW will be available in 11 different shades. You'll be able to choose from blonde, red, brown, and black shades with warm, cool, and neutral undertones, so blending the gel with your brows will be easier than ever.
To apply, use the spoolie brush applicator that comes in the tube to sweep the product through your brows and coat each hair, adding volume and bold, concentrated color. Or, reach for your favorite eyebrow brush to precisely paint the product onto hairs and blend into skin to fill in any gaps for a fully defined look.
Just like Anastasia Beverly Hill's top-rated DIPBROW Pomade, this new gel version gives you lots of control to create natural looking texture that dries to a smudge-proof finish. Pair it with your other favorite brow products from the brand, like the super-slim Brow Wiz detailing pencil, to finish off your look.
Once it has officially launched, the DIPBROW Gel will also be available in a $9 travel size tube in five of the most popular shades, to make perfect brows possible no matter where you go. Mark your calendar for March 4 now, so you can be among the first to snag the long-awaited sleek new brow product from Anastasia Beverly Hills.