Anastasia Beverly Hills Surprised Fans With Two More New, Summery Beauty Products
Anastasia Beverly Hills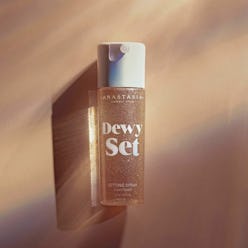 If you only know Anastasia Beverly Hills for its (admittedly amazing) brow products, you're missing out on some of the best makeup the industry has to offer. Anastasia Beverly Hills' eyeshadow palettes are pigmented, buildable, and colorful. Its liquid lipsticks are actually long-lasting. The highlighter kits? There is only one word that comes to mind: multidimensional. And now, fans will be able to set a full face of glowing, glamorous ABH makeup with the Anastasia Beverly Hills Dewy Set Setting Spray — a new super-fine mist from the brand that basically captures summer in a bottle.
It's been a busy spring for Anastasia Beverly Hills. The Dewy Set Setting Spray launches March 4 alongside the long-awaited Riviera eyeshadow palette and DIPBROW Gels, and the Loose Highlighters — another new surprise from the brand in its largest spring launch ever. If you want to see how the formula performs IRL, you'll have to wait just a little bit longer; the setting spray arrives at Ulta stores (and online, too) March 7.
You'll want to see how the $26 spray performs with your own eyes, too, after looking at its product photos online. While the brand notes the spray's packaging is glittery — and the formula itself is free from glitter or sparkles — the pictures still give you an idea of the glow it will help you achieve. Who needs a vacation at the beach, anyway? (OK, probably everyone, but this spray is a good temporary fix.)
To totally complete the summer-in-a-bottle vibe, the setting spray has a coconut and vanilla scent. You can use the spray in the morning to help your makeup stay on throughout the day, or blend face powders together. Or, throw it in your purse and spritz it on when you're feeling lethargic mid-afternoon. Anastasia Beverly Hills notes that the spray will "refresh the skin without disturbing makeup". So you're free to close your eyes, spritz, and pretend you're at the beach.
The brand also made sure to include that the spray can be used on the skin alone, as well. You can either use it before you put on your makeup to prep your canvas, or by itself for a dewy, natural glow. If a summer sparkle is what you're after, layer on a swipe of the $25 Loose Highlighter after the Dewy Set spray; the velvety highlighter is available in "Snowflake" (a pale pearlescent), "Sunset Aura" (a warm rose gold), and "So Hollywood" (a golden bronze).
It still feels like summer is a long, long way away — but thanks to Anastasia Beverly Hills, you can glow before it gets here. Keep on scrolling to shop the new spring releases from the brand.