Anastasia Beverly Hills' Newest Palette Is Completely Different From All The Rest
Anastasia Beverly Hills/Instagram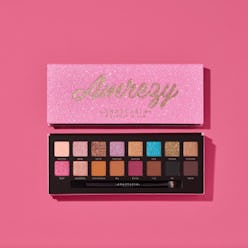 A new year means new makeup from all your favorite beauty brands — and so far 2020 is starting off strong. And before you start to think you've seen it all (really, how many more lipstick colors could there be?), think again. Case in point: Anastasia Beverly Hills' new Amrezy Palette, which is packing a slew of completely new shades for the brand. If you figured your palette collection couldn't possibly need an expansion, this one is set to change your mind.
In the third installment of Anastasia Beverly Hills' collaboration with uber-popular beauty blogger Amrezy (aka Amra Olević Reyes), the duo is taking things up a notch. Well, 16 notches. That's because the new Amrezy eyeshadow palette is introducing a whopping 16 brand-new shades that have never been in a previous palette by the brand. For those keeping count at home, that means the entire palette is totally fresh. What better way to start the new year, right?
You'll be able to get your hands on Amrezy's latest collab beginning Jan. 14 on Anastasia Beverly Hills' website, before it lands in other retail stores (like Sephora) on Jan. 19. And if you're interested in adding the palette, $49, to your arsenal, you won't want to wait too long — it's a limited edition launch that will only be on shelves through July 2020, so it's bound to be a popular buy right off the bat.
Now, about those 16 new shadow colors. They range in finish from buttery smooth ultra-mattes, metallics, and another first for the brand, pressed glitter pigments. Amrezy worked with the brand to ensure it's a versatile palette, with shades that she (and you) can use every day.
"I wanted to make a palette that had every shade you would need for any mood, any occasion," Amrezy said in the official press release. "It comes with your everyday neutrals, your pinks for when you're feeling flirty, and your smoky shades to kick things up a notch. This one palette is my new go-to for creating any look I can dream up."
Amrezy took to her Instagram stories on Jan. 7 to chat through the new palette, uploading a flurry of videos to her 5.8 million followers. She noted the importance of including rich, blendable neutrals for creating perfect creases (warm orange-brown New Yawker, cooler browns OG and 1998, and plummy Yugo), plus an intense, pigmented black (BK) to add dimension along lash lines.
The makeup artist shared that bold mulberry pink Semsa is named after her mother, and was created to coordinate perfectly with the palette's metallic pinky hues like Rezy, Barb, Anastasia, and Waisted. Litty and Gemini are the two pressed glitter pigments; the first new formulation is a copper color with lavender sparkle, and the latter an antiqued gold with silver shimmer.
New shades and fresh formulas make this palette pretty hard to pass up on — so get ready to grab it for yourself on Jan. 14.