American Eagle Just Launched A New Personal Care Brand All About Helping You Chill
Courtesy of American Eagle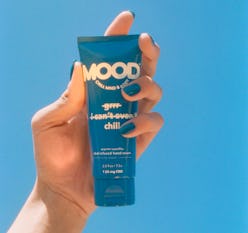 You know when someone tells you to calm down, and that seemingly innocuous statement has the absolute opposite effect? You would've been better off not hearing that at all, or better yet, taking a moment to engage in a little self-care to get you back to feeling yourself. An effective wellness routine, though, requires the right tools. And that's exactly what American Eagle's new personal care brand, MOOD seeks to provide. No matter your mood — frazzled, unfocused, restless, or otherwise — this new line looks like it'll have just what you need to grab a little zen.
Initial thoughts about popular mall store American Eagle likely include a lot more denim and tees than thoughtfully created wellness, bath, and body products. Now that's about to change, thanks to an entirely new category launched by the brand on Oct. 1. And it takes its cue directly from its young wellness-focused consumer base by infusing it all with 100 percent hemp-derived CBD.
"Inspired by our customers and their interest in this exciting new category, we see this as a perfect extension of the AE brand. MOOD is designed to help everyone, especially young people, live a better quality of life," Chad Kessler, American Eagle Global Brand President, said in an official press release.
The brand-new MOOD range, now available online and in American Eagle stores, is starting off with a bang by introducing a grant total of 45 new CBD-infused products designed to lift your spirits and soothe your body and mind. And there's a whole lot more where these initial drops came from. "The first collection is just the beginning of a more expansive product line and what we see as a meaningful long-term growth opportunity," Kessler said.
But for now, you can get your hands on MOOD's extensive inaugural line, which is divided into six scents specifically formulated to address different mindsets: warm vanilla Chill, mandarin nectar Energized, citrus twist Focused, cool coconut Refreshed, fresh eucalyptus Soothed, and soft lavender zZz. Each scent category offers hemp-derived CBD-infused products that include body lotion, hand cream, lip salve, lip balm, and aromatherapy oil, while some aromas also serve up additional soothers like bath bombs, sugar scrubs, foaming face wash, pillow mist, and face oil. Basically, if you've got any kind of ailment — from dry skin to a foggy brain — there's something for you in this line.
MOOD is designed as a genderless collection, and priced accessibly from $7.95 for the pout-protecting lip balms to $19.95 for body creams, face products, and bath soaks. Each aromatherapy oil is available for $15.95, hand creams and lip salves are $9.95, and you can snag the zZz line's sleep-encouraging pillow mist for $12.95. Prices like that make self care seem much more achievable, right?
Shop some of the best picks from American Eagle's new mood-balancing range, below.