Utilitarian-Chic Was The Theme Of Amal Clooney's Office-Ready Jumpsuit
Leon Neal/Getty Images News/Getty Images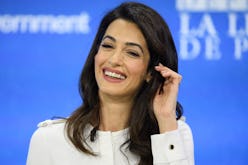 When you find yourself in a work style rut, this lawyer's wardrobe is a pretty good place to start. Nobody has ever blended together trendy and professional so elegantly. In her latest, Amal Clooney wore a slouchy white jumpsuit that turned the utility look into something far more refined.
The human rights barrister joined the likes of Britain's Foreign Secretary, the Director General of UNESCO, and others at Thurs.'s Global Conference on Press Freedom in London. She argued against increasing restrictions on press freedom looking sharp as ever behind the podium.
You may never have taken her white jumpsuit for the appropriate outfit for such an engagement if you had only seen it on the rack. The crisp, white Stella McCartney piece is designed for a relaxed fit, with extra-long sleeves that surpass the model's fingertips, hems that drag the ground, and an uncinched waist — boiler suit-style.
It's collarless and features concealed buttons and utilitarian epaulettes on the shoulders. Clooney took the sleeves and pants in so they weren't so long and draggy, then added a thin black belt to give it shape.
With just a few minor alterations, the slouchy utility jumpsuit was a total fit to wear in a room full of global leaders..
Incorporating utilitarian elements into office wear is a theme in Stella McCartney's Autumn/Winter 2019 collection, from which Clooney's jumpsuit hails. The runway presentation featured polished one pieces with tailored blazers on top and bulky cargo pockets on the bottom, shirt dresses with those familiar button flap pockets, and more.
Blending the two dichotomous aesthetics together is dangerous and uncharted territory for a designer, but Clooney's latest look is proof that they do, in fact, complement each other well.
Sustainable fashion has been a priority in McCartney's recent collections, too, which could be a major selling point for this trend-forward climate advocate. Clooney's exact jumpsuit and other utilitarian styles that are work-approved, ahead.
Shop The Look