Amal Clooney Plucked This Outfit Straight From The Runway & Made It Look So Wearable
WPA Pool/Getty Images Entertainment/Getty Images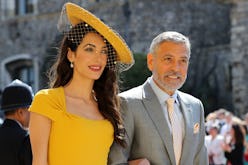 If Amal Clooney weren't a world-renowned human rights lawyer, maybe she'd be a runway model instead. She at least looked the part on the red carpet of Mon.'s Catch-22 premiere. The skirt and top ensemble Amal Clooney wore was plucked from the catwalk of Paris Fashion Week.
Much like the Duchesses of Cambridge and Sussex — who she's actually rather close with — this distinguished barrister can pretty much wear anything she wants and get away with it. She's been known to sport a smart skirt suit in court, then change into some bold metallic crop top when the day is done. Now, that's what you call a well-rounded wardrobe.
Whatever the fashion forecast calls for, Clooney goes at it in full-force, adapting trend-forward elements (feathers, '70s florals, or whatever it may be) into her timeless style so effortlessly. Her latest red-carpet look is a case in point.
The couple has returned to their favorite country — where they met and got married — this time to celebrate the premiere of George's new Sky TV series, Catch-22. Being in Italy is sort of like coming home for the Clooneys, so Amal celebrated by sporting an ensemble by one of her favorite Italian designers, Giambattista Valli.
She opted for a sparkly, emerald-green crop top that featured a keyhole neckline and tidy twist hem and the embellished mini paired with it on the Spring 2018 runway. The outfit originally debuted during the designer's Ready-To-Wear show at Paris Fashion Week.
Striking the perfect balance between classic (the cream-colored, pencil-cut mini) and contemporary (the boxy crop top), this skirt combo is right up Clooney's alley. Giambattista Valli is a most reliable source, after all. He was also the designer behind that iconic floral-embellished couture minidress the lawyer wore after her Italian wedding in 2014.
Her most recent outfit, however, is a much easier look to recreate. Especially with the help of these similar skirt and top combinations, ahead.
Shop The Look