Allswell Just Launched Its Most Luxurious Mattress Yet — & It's Still Affordable
Courtesy of Allswell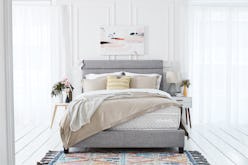 The idea of luxury often comes with an attitude of exclusivity, not accessibility. Thankfully, more and more brands are adopting a direct to consumer business model that makes delivering the best of the best possible without a big, bad price tag. And when it comes time to invest in a new mattress, having access to your own slice of luxury at a lower than typical price point is a very exciting concept indeed. With Allswell's new Supreme mattress that dream becomes reality. Thanks to the brand's most premium mattress to date, get ready for the sweetest sleep of your life that won't seriously deplete your savings.
If you've recently been shopping for a mattress, you know the struggle. There are seemingly endless options out there, but they aren't created equal — and many come at an unreasonably high price point that would cause countless sleepless nights all by itself. That's what makes Allswell's offerings so refreshing; the brand's pared-down product range presents just three easy-to-choose-from mattresses (plus essential bedding and plush yet affordable toppers to keep you cool), to take all the guesswork out of investing in a new sleeping situation. And the third and newest mattress is its most luxurious yet.
Allswell's latest launch, The Supreme, packs as many premium features as possible into a luxe, cozy 14-inch mattress — while still managing to keep your pocketbook intact. The Supreme, which landed on Allswell's website on July 29, starts at just $985 for a queen size (and goes as low as $745 for a twin), making it one of the most affordable luxury mattresses out there. Pretty good for a bed that shows up at your home in a box.
It's also available in a Twin XL, Full, King, and even a California King, the latter of which would run you a mere $1,145 (seriously). Already starting to figure out how to fit the largest possible size in your bedroom? Just wait 'til you hear what makes this mattress so supreme.
Like every Allswell mattress, the Supreme starts with a base of individually wrapped coils that minimize motion transfer (you won't feel your partner turn over mid-sleep) and offer an ideal blend of comfort and support. Reinforced Quantum Edge makes sure the mattress holds its form all the way around for a softly supportive sleep anywhere on your bed, and two inches of Energex Foam on top of the coils give optimal pressure relief and temperature regulation so you wake up feeling well-rested. Graphite and copper gel-infused memory foam work to transfer heat away from the body for a cooling effect, and a cushy Euro top ensures a cloud-like sleeping experience every night.
Sounds like a dream come true, doesn't it? Scroll to snag the Supreme for yourself below.