This Clever New Face Palette Basically Packs Your Travel Makeup Bag For You
Courtesy of Alleyoop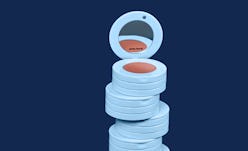 Planning a vacation can be enjoyable, depending on your level of love for browsing hotel deals and researching flight costs. Going on said trip? Even better. But packing for any extended getaway? Full stop. Throw in the fact that you most likely didn't stock your makeup collection with TSA compliance in mind — and packing your travel makeup bag quickly becomes an ounce-measuring, palette-rearranging conundrum. That is, if you don't own Alleyoop's new Stack The Odds palette. If you do, you can just throw the TSA-approved compact into your purse minutes before you have to walk out the door and be done with the whole thing.
Unveiled on Alleyoop's website Nov. 12, the new multipurpose face palette is small, yet mighty. As in, it was made to fit into the palm of your hand — even when it unstacks, like an accordion, and reveals the blush, contour, highlighter, and mirror hidden within its sleek blue packaging. And while it offers up three unique cream-to-powder complexion products (and the mini mirror for on-the-go application), Stack the Odds only retails for $32.
There are three colorways to choose from, too. "Sunkissed" is described as a "muted coral", and features the most neutral selection. "Sassy Pants" — as you may be able to tell from the name — is a bit more distinct, featuring a mauve-tinted pink blush and highlighter. Then, there's "Cocktail Hour", which is as sultry as it sounds; its blush is tinted a deep, true berry.
OK, pause — just now realizing you haven't heard of the beauty brand Alleyoop before? That may be because it only launched in August. Nevertheless, it's already accumulated quite the fanbase, thanks to its easy-to-use, travel-friendly, and space-saving lineup (just check out Alleyoop's Pen Pal makeup pen, a four-in-one makeup tool modeled after retractable pens). "Our products are thoughtfully designed to declutter your beauty routine to give you back time and space," the brand wrote on its website, which very well may sound like music to your ears.
You can explore all of Alleyoop's clever makeup line by visiting the brand's website. Or, just keep scrolling down to shop the three new colorways of the Stack the Odds palette. As you know, winter is coming — i.e. your next tropical vacation is just around the corner.