All The Black Friday Beauty Sales Insiders Have On Their Calendars
Giorgio Armani Beauty/Instagram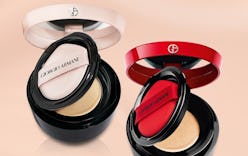 Contrary to popular belief — and Cyber Monday's name — not all the Black Friday 2019 beauty sales and deals happen in real life, while you're waiting in line with approximately 200 other people inside brick-and-mortar stores. In fact, most makeup, skincare, and haircare brands offer online deals that are just as competitive as their IRL discounts during the holiday shopping event. So no, you won't need to leave the comfort of your own home and trek out into the cold to take advantage of Black Friday this year; a major plus for foodies and football fans alike.
Just make sure you know when the sales are taking place. As you're probably well aware, Black Friday discounts aren't at all limited to one day of the year anymore. Some stretch out for over a week — such as W3ll People's sale — while others are limited to a handful of days (like Giorgio Armani Beauty).
Still, all of the sales listed below do share one very important thing in common: They're some of the best of the best, and the ones beauty insiders have already marked onto their calendars. Below, the 18 makeup, nail, haircare, and skincare Black Friday sales you won't want to miss this year.
bareMinerals
Just type in the code ITSON to score 25 percent off everything on bareMinerals.com (and in boutiques), beginning Nov. 25 and ending Nov. 30. Switch to the promo code CYBERSALE from Dec. 1 until Dec. 2 to save 30 percent off site wide (excluding custom kits).
Benefit Cosmetics
Save 25 percent on Benefit Cosmetics' entire website — and score free shipping — starting Nov. 26 and ending Dec. 3.
Briogeo
Type in the code HOLIDAY on the brand's website between Nov. 25 and Dec. 2 to unlock Briogeo's site-wide sale — which offers 20 percent off its hair care.
CHI
Make sure you keep an eye out for CHI hair tools during Target's Black Friday sale; the store will be marking select CHI appliances down by 40 percent.
Côte
Côte will be offering a limited-edition, $79 Black Friday nail polish box set (valued at $162), which will include shades No. 60, No. 1, No. 32, No. 119, No. 121, No. 87, No. 4, No. 125, and No. 14.
Farmacy
Save 20 percent during Farmacy's Black Friday event Nov. 29 through Dec. 2 — or, 30 percent if you spend $120. Any orders on Cyber Monday will receive free shipping, as well.
Fur
Fur's Black Friday and Cyber Monday sales are simple: You'll save 30 percent on its entire website between those dates.
Giorgio Armani Beauty
Visit Giorgio Armani Beauty's website between Nov. 28 and Dec. 1 to unlock the luxury brand's Black Friday sale. With the promo code TURKEY20, you'll save 20 percent on your order. Better yet, spend $50 and receive free two-day shipping and two samples, $100 and score a six-piece gift set, and $150 for a lip set or eye set.
Harry Josh Pro Tools
You'll be able to score 30 percent off Hary Josh Pro Tools on Dermstore's website between Nov. 28 and Dec. 2 using the code DSGIFT.
La Roche-Posay
La Roche-Posay's Early Access Black Friday sale kicks off on Nov. 27 and ends Nov. 28, and features 25 percent off all products and free shipping. Same goes for the actual Black Friday sale, which runs Nov. 29 through Nov. 30. For Cyber Week (Dec. 2 through Dec. 5), you'll save 25 percent and receive five deluxe samples with any purchase of $75.
L'Oréal Paris
Swing by Amazon between Nov. 28 and Dec. 12 to take advantage of L'Oréal Paris' Black Friday sale. Select hair color and hair care will be 20 percent off, while select cosmetics and skin care will be up to 35 percent off.
Milk Makeup
Between Nov. 25 and Nov. 27, you'll be able to score Milk Makeup's $40 Cyber Set (valued at $88), which will include a KUSH backpack, Blur Liquid Matte Foundation, KUSH barrettes, Hydro Grip Primer Deluxe Sample, KUSH Mascara Deluxe Sample, and Glow Oil in "Solar." Then, Nov. 29 through Dec. 1, you'll be able to save 25 percent on any order of $30 (with a free Glitter Bag and Werk It Set with $65 purchases). This bumps up to 35 percent off on Dec. 2 — with the same free gift for $65 purchases.
Orosa
Starting Nov. 29 and ending Dec. 2, you'll be able to save 15 percent on the new nail polish brand just by typing in the code BLACKFRIDAY15 before you check out.
Sigma Beauty
Sigma Beauty is having a Black Friday Week sale beginning Nov. 25 and ending on Nov. 29. Monday through Wednesday, you'll get free shipping — and save 20 percent on $50 purchases, 30 percent on $100, and 40 percent on $200. Thursday and Friday will feature a site-wide sale of 35 percent off and free worldwide shipping; plus any purchase of $50 or more will get a free F56 Accentuate Highlighter brush.
Smith & Cult
Starting on Black Friday and ending Dec. 1, you'll score 30 percent off site wide on Smith & Cult's website. Any $25 purchase on Cyber Monday through Dec. 4 will get a free, full-sized Instant Recall Invisible Powder Setting Spray, as well.
Stila
From Nov. 29 until Dec. 1, shoppers will score 35 percent off site wide (plus free shipping) on orders of $50 or more using the promo code BF35. Then, on Dec. 2, it'll be offering 85 percent off and free shipping on orders of $50 or more during Stila's Cyber Monday Mega Markdown Event. Any purchases will also receive a free two-piece beauty gift, regardless of how much you spend.
Urban Decay
Urban Decay's Black Friday sale begins on Nov. 28 and doesn't wrap up until Dec. 2. Use the code CYBERME to save 25 percent on select products, and score free shipping. Spend $60, and you'll get a free Grindhouse sharpener and Deluxe 24/7 Glide-On Eye Pencil in "Perversion" — or, spend $75 and get a free Eyeshadow single in the shade "Fireball."
W3ll People
W3ll People's Black Friday sale is particularly tempting. Beginning Nov. 22 and ending Dec. 2, you'll save 20 percent and score free shipping on full-sized, full-priced products. Additionally, shoppers who spend $50 or more between Nov. 22 and Dec. 3 will also receive $50 in gift cards to W3ll People, S.W. Basics, The Seaweed Bath Co., Common Good, and Frau Fowler (in the form of $10 per site).