Everything You Need To Know About Target's 2019 Black Friday Sale
Smith Collection/Gado/Archive Photos/Getty Images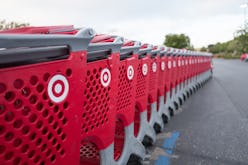 The buzz around the sale season has already begun, and if you're wondering when Target's Black Friday 2019 sale starts, mark your calendars for Thanksgiving Day, as the deals start on Nov. 28 and extend to Nov. 30. The destination for shopping everything from fashion and beauty to homewares and electronics has released its list of epic deals, giving shoppers a sneak peek at all the incredible savings to come.
While the retailer's Black Friday ad for 2019 was just announced, you can begin shopping in-store and online on the last Thursday of Nov. More specifically, this year, Target's doors will open at 5 p.m. on Nov. 28 and close at 1 a.m. on Black Friday. They will then re-open at 7 a.m Friday morning. But, when it comes to online shopping, RedCard holders and Target Circle members will be able to access select sale deals early on Nov. 27. And, if you don't fall into either camp, you can still score some savings ahead of time — the retailer is serving up more of its popular Weekend Deals from Nov. 16 until Dec. 15.
It's true, Black Friday is one of the most beloved times of the year, as it allows you to stock up on just about everything. Each year Target serves up major savings across all of its categories, and from what's been revealed so far — 2019 is no exception. Though the full lineup of deals won't be available until Thanksgiving morning on Target.com, Target's ad provides for a nice preview to help you start your wishlist prior to the sale going live.
Unsurprisingly, the ad is filled with a slew of savings on electronics, including deals on the new iPhone 11 models. Other highlights include: Beats Studio3 Wireless noise-cancelling headphones, which will be marked down from $349.99 to $279.99, as well as the Google Home that'll be up for grab for $49 instead of $99.
You can also expect to snag kitchen essentials for unbelievably good prices, as the sneak peek shows there will be a Farberware Reliance 21-pc. cookware set for $49.99 (regular price $109.99) and a Nutri Ninja Auto-iQ Pro Complete personal blender for $59.99 (regular price $119.99). But, if it's a new coffee machine you're after, make sure to note that this sleek Keurig K-Mini single-serve coffee maker can be added to your cart for $49.99 when the sale starts.
While this is only the tip of the iceberg when it comes to this savings event, ahead, we've selected some of the best deals in the advertisement (make sure not to miss the cozy slippers and sweaters). Remember to check back on Target.com for sale updates and to peruse the assortment of discounted items come Thanksgiving day.