Alessandra Ambrosio Took Her Workout Outfit To New Heights With This $8 Accessory
Broadimage/Shutterstock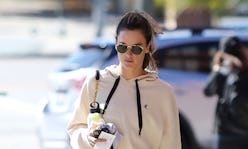 Some days it just seems downright impossible to pull off a low-key athleisure look like your favorite celebrities. For all those times you felt like you were the worst dressed in your yoga class, all you really needed was one good accessory to save the day. Alessandra Ambrosio's hair ribbon, for instance, is a surefire way to take your gym outfits from underwhelming to magazine-worthy.
If you know anything about the former Victoria's Secret Angel, you're probably aware that she's a bonafide yoga addict. The model is constantly photographed with a mat slung over her shoulder, en route to the studio to work on her warrior poses. Needless to say, she's gotten pretty good at achieving that sporty-yet-stylish look.
On Mon., Ambrosio was spotted in yet another inspirational gym outfit, including the simplest oversized, cream-colored hoodie with contrasting black drawstrings and cropped black leggings. She wore easy slip-on sandals with a black leather chain-link shoulder bag and a pair of everyday aviators, but the one thing that truly set her look was her hair accessory.
Ambrosio's animal-print scarf scrunchie is the key to all your gym looks from now on (and lucky for you, it's only $8 at Cotton On).
In fact, the runway veteran has been dressing her ponytail up with this super-affordable accessory repeatedly lately. Before her latest look, she also wore it with a slouchy, off-the-shoulder sweater, green-paneled leggings, and sneakers.
These Grease-inspired hair ribbons have recently re-emerged from the '50s. Ambrosio's Cotton On variety even comes in 11 colors (stripes, polka dots, and the like), but the model is partial to the animal print that goes with everything. And indeed, she does wear it with everything.
So, when you're getting dressed for the gym — or rather, for your weekend errand run (because let's be honest, athleisure is your off-duty look of choice) — and you need just a little bit of oomph, then elevate your outfit with these Ambrosio-inspired ponytail accessories, ahead.
Shop The Look