How Acne Studios' New Collection Is Making Pastels For Spring Feel Fresh Again
Courtesy of Acne Studios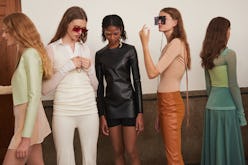 It sure doesn't feel like it right now, but eventually spring will grace the northern hemisphere with its glorious presence. Until that day arrives (sooner rather than later, with any luck), you've got time to get your wardrobe in order for the warmer season ahead. And luckily the Acne Studios Spring 2019 collection just landed to fuel your fashion fantasies. From seamless knits to silky separates in a range of gorgeous pastel shades, the latest line is full of inspiration on how to freshen up spring's favorite color palette.
Stockholm-based Acne Studios officially dropped its Spring/Summer 2019 collection on Jan. 31, and it's full of dreamy dancer-inspired pieces that unite function and fashion in sleek, fluid silhouettes. "I was interested in how dancers wear clothes both to enhance their movement and to express character," Johnny Johansson, Acne Studios Creative Director said in the collection's press release. "It is a mode of dressing that to me feels modern."
The latest line — now shoppable on the brand's site and in Acne Studios stores — certainly feels contemporary, especially thanks to its unique usage of color and contrasting fabric choices. Pastel colors and bold pops of red are placed against a neutral backdrop of soft browns and beiges, and rich caramels and blacks. Voluminous separates, from oversized graphic tees to billowed blouses, are paired with sharply tailored blazers and slim-cut leather trousers.
As Johansson said, the overall idea is simple: Wear styles that feel like an extension of yourself, not just as a matter of functionality, but in a manner of self-expression. If you love pastels, but never thought it appropriate to wear them head-to-toe (let alone alongside bold colors), try it out this season with the collection's $2,500 vanilla yellow leather trench, layered over a pale peach colored sweatshirt, $300, and beige ribbed leggings, $380. The look reads relaxed, but put-together thanks to the muted color palette — wear variations of it on repeat all spring.
To showcase the sleek fluidity of the collection, Acne Studios commissioned Sonya Mohova, a Ukranian ballerina and model, to create four short films completely self-shot on her iPhone for a cool lo-fi effect. Mohova interprets how the collection gracefully takes her through life, from workouts to off-duty walks on city streets. "Dance is such a physical and performative experience that actually lends itself beautifully to fashion," Mohova said in the press release. "And by filming on my iPhone, I hope to enhance the personal aspect and bring out the raw movement."
Acne Studio's spring release comes just in time for you to start dreaming up looks for the warmer, sunnier days ahead — and makes a pretty convincing case for incorporating lots of pastel into your closet as a contrast for your bolder-colored pieces. See some of the brand's pastel Spring/Summer 2019 styles below, and head to Acne Studios' site for more.