The Line's Sale Got Even Bigger & You Need These Discounted Acne Studios Jeans Stat
Acne Studios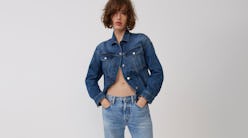 Whether you're still zeroed in on gift shopping for your loved ones, or you've already checked everyone off your list, it's worth shifting your attention when there's a major sale that'll help you score much-needed essentials for your own closet. After all, during the giving season you've gotta show yourself some love too, right? And if you're looking for the right opportunity to treat yourself, Acne Studios jeans are on sale at The Line right now — plus countless other luxe pieces from your favorite high-end brands. Mom, Dad, sister (and the rest of your list) can wait, because the chances of these steeply-discounted pieces lasting long are slim.
Because the very end of the year means a lot of retailers are getting ready to pivot from the current season's styles to the next, it's a major sale time for brands trying to move some inventory. That's good news for you, because it means you can score reduced-price pieces that are still in season, from essential outer layers to cozy knits and stylish denim. The Line's current sale section is no exception — in fact, it's brimming with seasonally-relevant buys that'll instantly upgrade your closet.
Truthfully, the high-end, high-style retailer has so much sale merchandise right now (over 14 pages to scroll through), it'd be easy to get overwhelmed by all the options that have been added. But instead of abandoning your efforts, approach the sale with a fine-tuned plan. Think about the basic, essential items that you wear the most, and consider The Line's sale as your chance to snag luxe upgrades of each. They'll last you a lifetime because they'll be classic, quality pieces — plus who can say no to discounts as high as 40 percent?
Start by revamping your denim reserves with well-made jeans from Acne Studios. A slightly-distressed black skinny jean is a girls' night out must, and a cropped indigo wide leg style works in just about any scenario. Each of the Acne Studios styles are down to $144 and $222 respectively, and will replace the several-year-old pairs you've worn to threads.
Style-with-everything tops are abundant in the sale offerings as well, from super-soft knits to playful tees. Grab a luxe cashmere sweater from Vince, $177, to get you through the season in style, and snag Loewe's chic graphic tee, $237, to wear on warmer days (and all the time, come spring). Splurge-worthy shirts, like this JW Anderson white blouse for $438, are also down to more palatable prices — they're so versatile that you'll more than get your wear out of them, anyway.
If you're still not convinced to pivot from the pressing goal of completing your holiday shopping, use The Line's sale as your chance to score gifts for your most fashionable family members for less. (Nobody would blame you if you pick up a piece or two for yourself as well.) Start compiling your list by browsing some of the best designer pieces from The Line's big sale, below.