Acne Studios Just Debuted A Limited-Edition Home Collection — And It's Already Selling Out
Acne Studios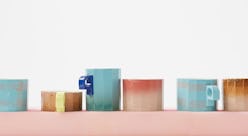 It's officially the season of all things cozy. You get all bundled up to stay warm when you leave the house, and the minute you get home you're ready to snuggle up beneath a soft blanket on your couch. But the fact that you want your spaces to feel inviting this season doesn't mean you should have to sacrifice on style. Luckily, with more and more fashion houses trying their hands at interior design, it's never been easier to infuse effortless style into your home — and the latest launch is no exception. Don't wait too long to shop the just-dropped decor inspired by Acne Studios scarves — it's cozy and cool, and going fast.
Stockholm-based design house Acne Studios has taken a unique approach to the world of interior design, announcing on Dec. 6 a limited-edition collection of home decor pieces crafted from and inspired by the brand's popular contemporary-cool scarves. The capsule, available for purchase online and in select Acne Studios stores for a very limited time, includes oversized patchwork blankets and accent pillows constructed out of the Fall/Winter 2018 scarves, as well as mugs made to mimic the scarves' colors and patterns.
Because Acne Studios' latest collection of scarves are fashioned from bold colors and vivid patterns, the resulting decorative pieces in the new capsule collection are no different — making them an ideal method for adding major interest to any space.
The launch's patchwork pillows and blankets (each of them totally unique) have bright, warm pinks and sunny yellows placed against contrasting shades of cool blue and grass green, for an eclectic finish that creates an instant focal point. Place a pillow or two, $300 or $480 depending on size, on your couch and drape the cozy, big blanket, $650, over your go-to armchair so it's at the ready for cuddling up on cold nights in.
Continue the look by stocking up on several of Acne Studios' limited edition coordinating mugs. Grab one of each of the different colors and patterns — it's all about mixing and matching with this line. A blue and pink checked pattern, surprisingly enough, will coordinate perfectly with a yellow and tan dip-dyed design; throw in a pink ombré iteration for good measure. Priced at $130 each, the mugs seem to be selling the quickest, with several colorways (like the brown and the blue dip-dyed versions) already gone.
The particularly cool thing about this collection, aside from the fact that it's incredibly stylish while still bringing the cozy factor needed this season, is that no two pieces are exactly alike. And despite being totally different, you can still expect that they'll coordinate perfectly, thanks to Acne Studios' discerning eye for design.
If you're looking to spruce up your spaces with unique finds that are fashion-girl approved, you can call off the search with this Acne Studios collection. Don't hesitate on shopping these colorful picks, however, because when a capsule this cool drops, it doesn't last long. Browse some of the best pieces from the launch below — and scoop up a matching scarf or two while you're at it.