L'Oréal Paris & KARL LAGERFELD Are Launching A Makeup Collab — Here's When You'll Be Able To Shop It
Pascal Le Segretain/Getty Images Entertainment/Getty Images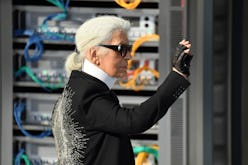 Try naming a figure in fashion with a more prolific legacy than Karl Lagerfeld. Then, attempt to name a more recognizable beauty brand than L'Oréal Paris. Pretty tough, right? Both French brands are completely iconic — which makes the breaking news that they've joined forces on a collaboration about as exciting as it gets, especially in light of Lagerfeld's passing in February. Some matches are simply made in heaven, and the L'Oréal Paris x KARL LAGERFELD makeup collection is sure to be proof.
The one-off collection, which was announced June 25 on KARL LAGERFELD and L'Oréal Paris' official Instagram handles, will be revealed on September 20, 2019, before its worldwide release on September 27 during Paris Fashion Week — fitting timing for the Parisian-focused partnership. And while the collaboration, which was actually initiated by Lagerfeld before his death, makes sense on even the most basic of levels (both houses share a Parisian heritage, after all), the connection runs much deeper than that.
"This line of makeup truly reflects the KARL LAGERFELD brand universe and what Karl loved in makeup — he often used eyeshadows as colors in his sketches," Caroline Lebar, Head of Image and Communication at Maison KARL LAGERFELD said in an official statement. "L'Oréal Paris has an inclusive message of beauty for all. Karl liked it when a collaboration resonated with his brand and would make a real impact to many people."
And though WWD's coverage on the upcoming launch indicates that the collection's precise product range is not yet public knowledge, it is certain that the release will seamlessly combine Lagerfeld's rock-chic aesthetic with L'Oréal Paris' commitment to creating empowerment through beauty and its "scientific dedication and color expertise" — plus a necessary dose of Parisian elegance. Based on that, who wouldn't want in?
Neither brand is a stranger to collaborations — L'Oréal Paris notably joined forces with fellow Parisian fashion house Isabel Marant, and Allure's report calls to mind KARL LAGERFELD's previously launched collab with ModelCo — but the French brand's shared penchant for the unexpected and dedication to "celebrating feminine power" further cements the partnership.
"For L'Oréal Paris, all of our fashion designer collaborations are an honor, but this one is particularly meaningful," L'Oréal Paris Global Brand President Delphine Viguier also stated in the release. "While Karl upturned the hierarchy of the landscape to democratize fashion, L'Oréal Paris is committed to making beauty according to women's own rules and desires."
Fashion month is still a ways off, so everyone's got awhile to daydream about exactly what this sure-to-be sensational collaboration will bring. Until then, stay tuned to both brand's social channels — who knows what kind of sneak peaks you may be able to suss out.