Busy Women Will Love Isabel Marant's Affordable New Makeup Collection
Courtesy of L'Oréal Paris x Isabel Marant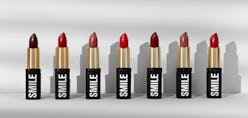 When a master of French girl fashion and one of the world's most recognized beauty brands join forces for a capsule collection, it's going to be good. So when L'Oréal Paris first announced its collaboration with French designer Isabel Marant on Sept. 4, beauty lovers everywhere began the countdown until the five-product L'Oréal Paris x Isabel Marant Collection release.
This isn't the first time L'Oréal Paris has connected with a high-profile fashion brand. In fall 2017, the brand released a L'Oréal Paris x Balmain lipstick collection that quickly found success. And since both Marant and L'Oréal Paris aim to provide women with the tools to easily achieve their style and beauty goals, this new partnership is a natural one.
The new collection dropped Sept. 19, and now it's never been easier or more affordable to nail effortless French beauty. Each of the five products is aimed at achieving a playful-yet-practical beauty look, and will only set you back $12 to $16.
Included in the collection is an assortment of seven essential lipstick shades (at $12 each) in a comfort-matte finish. The new lipsticks range from a nude rose to a deep plum, with shades of pink and red in between. Each is named according to Marant's American West-meets-Paris design mentality — "Belleville Rodeo" and "Saint Germain Road" are prime examples — and help pull together a French-inspired face with one swipe.
Those looking to pump up their eyes can reach for Marant's $14 two-pan smoky eye palette, appropriately named "Smoke." Or, for a truly effortless appearance, opt for "Wanted", a two-in-one clear gel that promises to subtly define lashes and tame your brows.
Other multi-use items in the collection include a sheer pink gloss, "Amaze", that can be applied to both lips and cheeks, and "Shine", a $16 highlighter in a peachy-pink shade. The cream-based highlighter comes in a pot but transforms to a powder on contact with skin to add a healthy glow.
Marant is known for keeping things simple when it comes to the beauty looks on her runways, so it's great to see she's stayed to true to that mentality in this partnership. As the designer said in a press release, "I've always interpreted fashion's ready-to-wear literally, and I couldn't be more thrilled at this chance to do that in makeup with an on-the-go collection with L'Oréal Paris."
Shop the collection below and at Barneys New York, and send your thanks to L'Oréal Paris and Marant for finally helping you de-clutter your makeup bag.