9 Oversized Winter Scarves To Shop, Because Normal Ones Just Won't Cut It Right Now
Acne Studios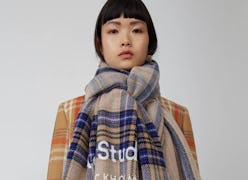 In case you were thinking winter was taking it easy this year, Mother Nature just kicked things up a notch. It's cold — as in, sub-zero temperatures cold — in many places across the country right now, and normal winter gear isn't quite cutting it. And because extremely cold weather doesn't necessarily mean you get to cozy up at home until it passes, it's definitely time to stock up on some oversized winter scarves that'll keep you warm while you face the freezing conditions.
Your go-to gloves and teddy coat got you this far, but now that things have taken a decidedly extreme turn (the term Polar Vortex is enough to make your shiver), you've officially got to level up on your outer layers. Time to trade in your trench for a puffer or parka, and snag some stylish snow boots to keep toes toasty. And to totally block out the biting wind, you'll want to wrap up in a cozy but chic scarf that's as big as possible.
Before you think that the freezing temperatures mean you'll have to trade in fashion for function, take a look around at the totally stylish oversized scarves that some of your favorite brands are thankfully still stocking. Scoop up a classic striped scarf (at a steal of a price) from Zara's or Madewell's end-of-season sales. Zara's bold knit scarf is down from $35 to just $9.99, and offers seven and a half feet of fabric to cozy up in. Madewell's bright earth-toned cozy cotton-blend scarf of the same length is down to $49.50, and just wide enough to wrap around your neck a couple times for optimal warmth.
More of a classic plaid person? Swipe one of Acne Studios' iconic checked scarves, $240, in one of eight different color patterns. They're seven feet long and two feet wide, which means they're basically a chic blanket you can commute in. Still not warm enough? Burberry's oversized checked wool and cashmere-blend scarf, $960, features a genius hood to further banish the cold.
Whether you go for a big blanket style or choose a cozy cashmere-blend, grabbing up an oversized scarf is going to be key while you wait out the end of this season's intense winter weather. Keep scrolling to shop some of the best oversized styles from some of your favorite stores, below, and stay warm.