All The New Hair Products You Need For Shiny, Long-Lasting Color
Neil Rasmus/BFA/Shutterstock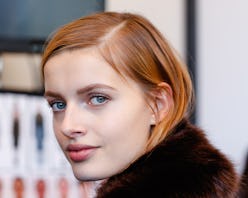 Those who color their hair regularly know that special attention must be paid to ensure that strands stay vibrant as long as possible. And if it's time you showed your colored locks some extra love, you'll want to check out the new hair products at Bluemercury that'll restore hair back to its vivid, shiny self between salon visits.
To state the obvious, colored hair goes through a lot. From the actual dyeing process, to heat styling, to harmful UV rays and other environmental factors, there's a good chance that your strands have seen some damage over the years. And while you may already be stocking up on winter hair saviors to keep strands from drying as temperatures drop, you should also consider adding some color-protecting products to your arsenal to give your shade extra staying power.
The good news is that hair color protection has never been better, thanks to cutting-edge formulas that not only keep dye locked into strands but also work to repair any damage that can cause hair to look dull. The even better news is that Bluemercury offers the cream of the color-saving crop, so you can rest assured that any product you pick will give you glowing results.
On top of that, you can choose whatever formula type best suits your hair care routine. Like the idea of a quick spritz to save your color? Bluemercury's newly arrived PHYTO Phytomillesime Color Protecting Mist, $30, is an easy-to-apply mist that'll not only keep color fresh but also protect hair from heat styling and ensure a smooth texture. If you already use a styling spray, this is an easy swap to make so your strands stay bright until your next dye job.
If you're more in the market for a super nourishing mask with shade-enhancing benefits, you're also in luck. Oribe's Masque For Beautiful Color, $63, works by moisturizing hair from root to ends and providing a UV-filtering layer of protection. Apply after shampooing as you would a normal conditioner, and let it soak in for up to ten minutes. The result is super shiny hair that reflects light and looks as vibrant as when you walked out of the salon.
Round out your routine with a full range of products to enhance and prolong your hair color. Take your pick from color-managing shampoos and conditioners, and stock a temporary color treatment, like Christophe Robin's $35 Temporary Color Gel, to help you get through that final stretch before you see your colorist again. The gentle gel-in-oil formula is 92 percent natural and promises to provide a lasting dose of color that'll keep roots from showing for up to seven shampoos.
Whether you're a hair color veteran or you've just gotten your first dye job in one of fall's trending hair colors, you'll want to stock up on the newest products to keep your color looking fresh. Shop the latest product drops at Bluemercury below, and head to the brand's site for even more hair and beauty buys.