9 Gift Ideas For Antique Lovers That Don't Require You To Buy Actual Furniture
One Kings Lane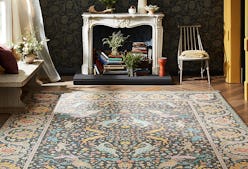 Antique lovers know their style. Their homes are always perfectly curated and distinctly unique — but though they know exactly what they like, often no one else can guess. On top of that, antiques can be wildly expensive, and it's hard to know what to look for that doesn't involve actual furniture (which can admittedly be a weird gift to give if you don't know someone very well). That said, when you take away the option of big-ticket pieces, only random, old décor and trinkets are left to wade through, making finding gifts for antique lovers quite a task. So when you inevitably come to a standstill in your search, what do you do? The experts say it's best to look to what your gift recipient already knows and loves.
"Most antique lovers collect things that follow a theme, so find out what they love and then start searching!" explains Paula Danyluk, the owner of gift and antique store The Paris Market, in an email to TZR. "It's fun to gift something with provenance that tells a story. That story is what gives the antique its value."
Katie Hyatt, owner of online shop Saint Signora, echoes a similar sentiment in an email to TZR. "Finding an antiquarian a gift can oftentimes be a bit tricky. You have to truly know the person and what they gravitate towards in terms of collecting… unless you're like me and you collect everything," she explains. "However, if you find yourself in a bit of jam as to what to get your little antique lover, a good place to start is with perhaps an era they favor or a particular collection of theirs. This will not only help narrow down things a bit for you, but also ensure you'll be gifting something your loved one will use."
If you're not exactly familiar with their collections, Danyluk recommends searching for gifts based on their hobbies, too.
"For the book lover, track down a first edition from their favorite author. For the fashion lover, a vintage piece of jewelry or handbag always works — you can't ever go wrong with a vintage Chanel bag!" says Danyluk.
Likewise, Hyatt also suggests looking to what the recipient will use in their daily life. "If it's for the special lady in your life, perhaps a pair of Victorian jewels or some 1920s costume pieces to accentuate her party wear," she says. "If it's for your guy, sterling silver decanter tags and vintage barware always work in our household. If you're friends with an artist, try acquiring some antique inkwells or paint palettes."
However, it's not just knowing what to look for that can present a problem in the hunt for the perfect antique gift; knowing where to look can be just as much of a puzzle, too. In that case, Hyatt recommends looking local when possible, or finding a reputable store on the web. "In terms of finding these arresting pieces, the best places to look at are your local antique or trusted online shops, any flea markets, and perhaps even neighborhood thrift shops."
No matter what you end up finding, remember this: "Regardless of what you purchase your loved one or friend, they will truly appreciate the effort you went to to find them an original piece that befits their love of the past," says Hyatt. With that in mind, keep scrolling for gift options that any antique lover is sure to treasure.
For The Mixologist
For The Artist
For The Bookworm
For The Makeup Lover
For The Chef
For The Hostess
For The Writer
For The Francophile
For The Science Enthusiast