2019's Most Intagram-Worthy Street Style Trends Belong In Your Closet Right Now
Olivier Degoulange/Shutterstock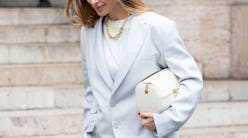 Ask a group of women who work in fashion to talk about the next big trend and their responses are likely to all be something different. With the rise of social media, the blueprint of discovering and defining a trend has completely changed. Thanks to our new ability to rapidly spread information, the trajectory of an It-style can seem like it's in warp speed. Take for example, seashell-embellished jewelry. The motif exploded on Instagram last summer, and it was mere months before articles were predicting what the *new seashell trend* was going to be. But, before you lose hope that fashion has become too fickle, look to 2019's emerging street style fashion trends. Each has staying power if you do decide to invest.
One of the best aspects of cultivating your personal style is that you can choose to adopt or dismiss whatever trends you want, at whatever point in time you want. Sure, you might spot these cool looks all over Instagram now, but it's up to you to chose if and when you break them out. With a fresh season of street style just behind us, it's the ideal time to check in on what your favorite trendsetters are wearing, and a roundup of emerging styles will surely pique your interest — especially with the start of the new spring season. Below, you'll find the newest way to tie a silk scarf, the next big boot trend, along with the color combination showing up in droves. Bottom line: the nine ideas below are worthy of your wardrobe for many months to come.
The Emerging Trend: Triangle Head Scarf
The scarf is one of those accessories that never ceases to impress with its versatility. Though there have been plenty of riffs on how to tie it as of late (wrapped around a ponytail is a current favorite) a few trendsetting influencers were spotted during fashion week with it tied in a large triangle shape, as seen below. The look feels fitting for a weekend picnic or leisurely lunch with friends.
The Emerging Trend: Fringe Jackets
While cowboy boots have occupied the western trend circuit as of late, it seems the latest piece to stomp into the genre is the fringe jacket. It's not this It-item's first rodeo but having been on a brief hiatus the fringe jacket feels fresh and fun for 2019.
The Emerging Trend: Pants Tucked Into Boots
This trend in particular, is the kind that seems to have cropped up overnight. The silhouette feels like a cool nod to the '80s and works best with boots that extend slightly higher on the leg.
The Emerging Trend: Pinky Rings
From signets, to stackables, to sleek, architectural shapes, ring trends have run the gamut in recent months. The latest trend to emerge? Pinky rings. Experiment with whatever suits your fancy whether it's a glitzy cocktail ring or minimalist band.
The Emerging Trend: Period Necklines
Victorian-inspired necklines are certainly not a new trend, but the collar hasn't been in the spotlight for a couple of years thanks to the popularity of its sister silhouette: the dramatic sleeve. For spring, try styling a ruffled neckline underneath a lightweight sweater for an unexpected (and most importantly easy) layering combination.
The Emerging Trend: Anklets
Anklets are one of those under-the-radar trends that never quite feel overdone, and are consistently a great addition to an outfit. This spring, reach for a beaded version for a pop of color or a simple gold chain to keep things clean and cool.
The Emerging Trend: Transparent Outerwear
PVC accessories have been a buzz-worthy trend for a while now so it's not entirely surprising that see-through outerwear is next in line. If you're not feeling the plastic-on-skin situation, there are options in softer fabrications that are still sheer and alluring as ever.
The Emerging Trend: Tie-Dye
It feels almost silly to call tie-dye a trend at this point, but with the endorsement of numerous designers and influencers as of late it's worth mentioning that the psychedelic pattern is going to be major this season.
The Emerging Trend: Stick Of Butter
In February, Man Repeller's Harling Ross published an article titled "The Best Winter Style Hack Involves Dressing Like A Stick of Butter" and it birthed one of 2019's best hashtags to date. When surveying the color trends from fashion month, the sheer amount of stylish women dressed in head-to-toe buttery cream or pale yellow is remarkable. If monochrome isn't for you, simply rotate in a saturated color to contrast.