The $20 Layering Piece Your Cold-Weather Wardrobe So Desperately Needs
Uniqlo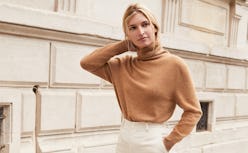 With each day inching closer and closer to the start of the new season, the frigid temperatures are only imminent. And because you'll have to go outside at some point, it's important to solidify your collection of layering staples to keep you warm. Luckily, Uniqlo has plenty of chic cold weather essentials at an attainable price-point for that exact moment.
Whether you live in a place that gets all four seasons or you only experience true winter weather when you're heading up the slopes, you've probably stocked up on some layering pieces from Uniqlo's HEATTECH collection (which has been essential for anyone who ventures out into weather below 30 degrees). But just in case you haven't, the $19.90 HEATTECH Extra Warm Ribbed High-Neck T-Shirt is sure to keep you warm through the coldest of temperatures.
Once you have your HEATTECH pieces, the Japanese brand also has plenty of other warm winter staples to fill your closet — and they'll go with anything you wear. To start, opt for a heavier outer layer, like the Reversible Down Jacket, which was made in collaboration with J.W. Anderson and is now on sale for $129.90. Style this chic puffer jacket with everything, whether it's a minimalist-approved long-sleeve dress or a cable-knit sweater and jeans. And if you want a more polished option to take on the winter winds, the Wool-Blend Wrap Coat is on sale for $59.90 and will feel especially elevated when it's styled with a timeless turtleneck and a warm scarf.
Speaking of turtlenecks, Uniqlo's $89.90 Cashmere Turtleneck Sweater is the perfect go-to piece when you aren't sure what to wear this season. And if you want a style to layer underneath your other sweaters, like this $29.90 3D Cotton Cocoon Sweater, add the Extra Fine Merino Ribbed Turtleneck Sweater, which also costs $29.90, into your cart.
Of course, you're going to need something to wear with these new sweaters. In which case, style them with Uniqlo's $29.90 Souffle Yarn Flare Skirt. And if you want to feel extra polished, get a color that matches your sweater for a monochromatic ensemble. Or, pair them with printed trousers, like the Ezy Brushed Ankle-Length Pants, $39.90.
If you're looking for dresses, Uniqlo has you covered there, too. Layer your lightweight turtleneck under the $14.90 Corduroy Long-Sleeve Shirt Dress for a '70s-inspired look you can wear to the office. And if you want an especially cozy option, you won't regret getting yourself the $49.90 3D Premium Lambswool Turtleneck Dress.
Scroll down to shop these chic winter essentials from Uniqlo below.