8 Key Denim Trends That'll Convince You To Retire Your Skinny Jeans
Shutterstock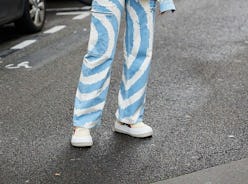 There will never be a garment that can replace the appeal of an indigo-hued, five-pocket, high rise, straight-leg pair of jeans. They've essentially been a mainstay of wardrobes everywhere since Levi Strauss first invented modern denim in the 1800s. But even the most devoted wearers need to take a break from their standard everyday wares for something a bit more eye-catching. And for 2019, the newest denim trends are just the jolt of excitement you've been looking for.
The most interesting denim trends this season are the antithesis to what jeans are usually expected to be: simple foundations. Instead, tie-dye prints, cool cutoffs, and styles that teeter on the edge of being trousers, exemplify the versatility of seemingly humble denim. That's not to say you'll have any trouble finding a great plain pair on the market — there are plenty — but rather, brands like 3x1, Alexander Wang, and Ganni are offering creative interpretations of how denim can elevate and transform elements of your personal style.
These days denim is not just a wardrobe essential, but a key closet piece for making a statement. Peruse the eight anti-basic trends that define spring 2019 below.
Psychedelic Denim
Tie-dye continues to be a prominent trend this spring and the '60-era motif is coming for your denim with pairs that whirl and swirl in shades of blue, have trippy bleach patterns, and make subtle use of bold colors.
Logo-Laden
Championed by iconic fashion brands including Versace, Calvin Klein, and '90s denim leader Jordache, this trend is an excuse to not-so-inconspicuously remind others of who makes some of the most desirable jeans around.
The Extreme Split Skirt
Denim skirt trends have fluctuated from embellished micro minis to more modest maxi versions. However, one of the most interesting current styles is somewhat a blend of the two as the hemline hits under the knee and the super-high slit adds an alluring peek-a-boo element. Depending on how you choose to style the skirt you can make it work for the office, or wear it to something a bit more casual.
Two-Tone Legs
While a jean's wash can change its look entirely, it's an even bolder statement when designers meld two contrasting hues together. Which, upon inspecting the spring's latest arrivals, seems to be a popular theme this year. The vertical lines created by the two-tone striping also help to elongate the leg.
Skater Shorts
Welcome back shorts weather with a slouchy, laid-back, just-above-the-knee version of denim cut offs. Though more polished dressers may have written off the style in the past as a bit too skate-inspired, higher-waisted versions offer plenty of polish.
Polished and Pleated
One of the most ubiquitous jean styles this season mimics a pair of crisp, tailored trousers with a high waist and neat pleats. It may not completely replace the classic suiting pieces in your wardrobe, but at least you've got options. Look for a style that's looser through the whole leg and has a super-high rise.
Have It On The Side
For a more subtle trend to try, consider a classic silhouette embellished with contrast striping. This is specifically thanks to the addition of unconventional racing stripes used by brands such as Amo, Maguire, and Mother.