This $28 Floral Face Steam Is Exactly What Your Skincare Routine Is Missing
Klei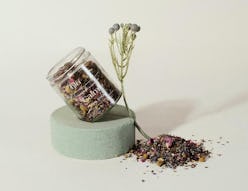 The best part of a professional facial, in my humble opinion, is the moment that warm, cozy blanket of steam envelops your pores and coaxes them open, ever so gently, pre-treatment. But you don't have to book with an aesthetician to experience the cleansing, balancing, de-gunking benefits of a good steam. According to dermatologists, at-home options like handheld steamers and floral face steams are just as effective — and so, so easy.
"Steaming helps open the pores and allows for a deeper clean of the skin and extractions of clogged pores," Dr. Lily Talakoub, M.D., F.A.A.D, a board-certified dermatologist with McLean Dermatology in Virginia, tells The Zoe Report. This explains why facials often begin with a steam session. "It's an excellent way to prepare the face for further treatment, like a gentle exfoliation or a clay mask," Valerie Smith, the founder of natural beauty brand Klei, adds in an email to TZR. Essentially, steaming super-charges your products — it clears a path for them to deeply penetrate pores and get to work.
If that sounds appealing — which, hello, of course it does — there are two ways to go about at-home steaming: with a handheld steaming device or with a good, old-fashioned bowl of boiling water... enhanced by a bouquet of dried flowers, naturally. "They both work," Dr. Talakoub says. "It doesn't make a difference." A steamer is perhaps more low-maintenance; a floral face steam, like those offered by Klei and LUSH Cosmetics, is arguably more relaxing. (And, it has to be said, more Insta-worthy.)
"While a handheld face steamer can provide similar facial benefits, floral facial steams have a few added benefits," Smith says. "They're actually great for relieving sinus pressure and can really help with congestion and nasal dryness. The floral blends also provide mood-lifting aromatherapy benefits." The Klei founder says you can even use them in the bath — you know, just in case you get the urge to steam your entire body.
Using a floral facial steam isn't as intuitive as blasting your pores with an electric steamer, but once you get the hang of it, it's pretty straightforward. You need a bowl (preferably one larger than your face), a towel (to use as a "tent"), boiling water, and a mix of dried flowers or herbs (which you can purchase pre-mixed). "After cleansing the face, add a capful of the floral blend of your choice to the bowl," Smith instructs. "Pour boiling water over the blend and allow to cool slightly." Then, arranging the towel over your head as a "steam tent," place your face over the bowl and breathe deeply. "I personally steam my face for around two to four minutes, just until it starts to sweat a bit," the founder says.
Smith suggests steaming once a week, "immediately prior to a deeper skincare treatment," while Dr. Talakoub says once a month is more than enough. "Any type of heat can exacerbate melasma, so if you have melasma or are prone to it, I would skip steaming," the dermatologist cautions. "Sensitive skin types, especially those with rosacea, like me, are susceptible to broken capillaries and should treat their skin cautiously with minimal steam," Smith adds. In that case, it's a good idea to steam with lukewarm water, or skip the towel "steam tent" for a less-invasive approach.
Ready to treat your skin to a mini-sauna sesh? Ahead, eight steamers and soaks worthy of an at-home spa day.
Shop Facial Steams