8 Of NYFW's Freshest Designers That'll Be Everywhere Come Fall
Deveaux New York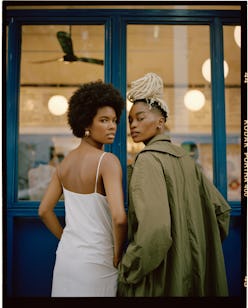 There are some designers who present at New York Fashion Week that qualify now as institutions, rather than merely a clothing label. Marc Jacobs, Anna Sui, Oscar de la Renta, Opening Ceremony — these are among the few. But while history runs deep for these pillars of New York Fashion Week, one thing The Big Apple's big week does exceptionally well is foster new, emerging talent. New York Fashion Week's emerging designers offer something that even the most established names have yet to, and they help shape what the future of fashion might look like for decades to come. The following designers fall into this category.
These up-and-coming brands may only have a handful of Fashion Weeks under their belts, but they've quickly become favorites among editors, buyers, and stylists who make a point to attend their shows and presentations, even when their schedules are packed. Why? Because they offer something especially fresh at a time when the fashion cycle can feel exhausting. Christian Cowan's designs are sure to show up on the red carpet, and Kim Shui's runways offer daring designs and a body positive approach to casting, each of the below visionaries have something unique to say. And it's time to listen up.
Deveaux
"Deveaux is all about the wardrobe — which I know does not sound novel at all," says designer Andrea Tsao, "But we want our collection to convey a kind of romance and comfort while being the go-to staple in your closet." While the brand initially launched as a mens line, this season marks the second women's presentation, following the debut in September — as well as the debut of street style photographer Tommy Ton's role of creative director.
With an emphasis on quality and fit, the line offers a refreshing take on cool, un-fussy, essentials that are far from unremarkable. "Presenting at Fashion Week is about allowing everyone into our world, our environment, our atmosphere, even for a few minutes," explains Tsao of the sleek collection which will have its first official runway show this season.
Christian Cowan
Christian Cowan may be one of the youngest designers presenting at Fashion Week, but considering his fame sparked by Instagram and Cardi B, his is one of the most anticipated runways on the calendar. "My fashion week shows are my opportunity to show the world what I want and the woman I'm designing for. My runways are all about strength and creativity," says the designer who wowed crowds last season with a woven hat dress that seemed to make Jacquemus's "La Bomba" seem minuscule, as well as an incredible feathered-covered purple suit that found its way to Cardi B's stage mere weeks later.
Cowan says the brand has become known as "happiness in clothing form," and that its upcoming show will continue to follow in the positive, bold, and playful spirit that makes it easy to root for him. "The goal is to invoke a strong woman who dresses for herself and appreciates creativity," the designer says.
Kim Shui
"I want my clothes to make women feel sexy!" says Kim when asked about how she stands apart. And though fashion tends to have very different opinions about what that means — Is it Versace opulence sexy? Is it Pheobe Philo Céline modest sexy? Is it simply Nike sneakers and leggings? Kim has her own interpretation that's exciting to watch, even if your definition differs.
"The everyday person really craves that moment of being sensuous and I feel that there is a lack of sexy clothing designed by women for the benefit of women — something that accentuates the body but is quirky — not this idea of being sexy for men," she says, adding. "I think you should be modest if you want to and show skin if you want."
Another reason Kim's shows are one to anticipate is because of her inclusive approach to casting, featuring models of varied backgrounds and body types. "I think there should always be more diversity and different body shapes on the runway," says Kim. "I like to have a wide range of beautiful girls wearing the clothes, and especially have body con dresses on girls of all different sizes."
Bevza
Ukrainian designer Svitlana Bevza of Bevza isn't exactly a new designer but has only been presenting at New York Fashion Week for the last three seasons, making her unique silhouettes, earthy color palettes, and inspired approach to sustainability an exciting — and very needed — addition to the week's lineup. "We saw tremendous growth over the last year and an increased demand from customers and stylists," says Bevza, "and I think much of that came from the exposure we got during NYFW."
While the upcoming collection is sure to follow along Bevza's signature approach to effortless design, if past collection are any indication, it also will continue to innovate along the lines of responsible fashion production. "I truly hope that fashion is heading in a more sustainable direction. We've seen this with innovative technologies, recycled fabrics, and vegan labels, but we need to do more," the designer explains to TZR. "We have to strive not to overproduce and be more conscious of our ecological footprint. That means investing in making the highest quality clothing and selling it at reasonable price points, so that nothing goes to waste. It means using natural, recycled materials and setting a precedent for other designers."
Bande Noir
Editor-turned-creative-director Mayte Allende is presenting her new, contemporary brand Bande Noir for the second season this fashion week. And for this young label, there's a huge emphasis on cutting through the noise and getting to the good stuff — in terms of this brand, that's meant elegant and playful shirting, suiting in impactful colors, and tailored pieces with just the perfect touch of quirk.
That's not the only way Allende is unique. "I don't consider myself a designer," she says. "Bande Noir is based on research, nostalgia, references. In that sense, I am lucky. I don't have the pressure to create this brand new groundbreaking, never-before-seen vision, or to chase after the latest trends of the moment. My team and I are fashion nerds, and Bande Noir is about distilling high fashion references into tailoring, sportswear and evening wear and crafting them to discreetly emphasize women's figures." This approach certainly feels different than much else of what's seen at Fashion Week, but a welcome change no doubt.
Christopher John Rogers
Christopher John Rogers is one of the freshest additions to New York Fashion Week, having presented his debut line of voluminous, joyful, colorful, fanciful piece last September with a cast that defied antiquated gender norms. While Rogers is still perhaps considered green, his designs have already earned the support of actresses and style leaders such as Tracee Ellis Ross and Tessa Thompson, and there's clearly so much more to come. If you can't wait, peruse all the gorgeous images on his Instagram. You won't be disappointed.
Staud
In her second Fashion Week runway show, Sarah Staudinger will debut her F/W 2019 collection that's bound to be filled with the next famous handbag style. At least, it's an easy assumption considering the It-girl-loved label's wildly popular success with the Bisset, the Moureau, and the Alice, a style that's practically guaranteed to be all over street style photos this week. Keep your eyes peeled.
Batsheva
Celebrity- and Instagram-loved Batsheva is back at Fashion Week for the second time this season with more of the prairie dresses the brand has become associated with. In fact, the label has opened a temporary pop-up shop in New York for the occasion, where customers can have the experience of seeing a custom made creation come to life. And if last September's presentation, held in a retro diner filled with models in coiffed beehives and plates of passed french fries, is any indication, this Fashion Week's show will think outside the box. And will be hard to miss on social media, too.