7 Wedding Guest Suits To Wear This Summer If You Want To Switch It Up From The Usual
Zara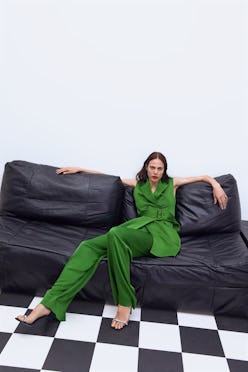 If you've received an embossed or gilded invitation in recent months, then you already know that wedding season has officially arrived. The celebration of love and the union of two individuals are always exciting occasions. However, weddings tend to also verge on the side of stressful — even when you're simply attending. There are a lot of things to consider when you have a wedding the books, but one of the biggest things a guest has to worry about is what they're going to wear. And though you could always opt for a pretty dress, there are plenty of wedding guest suits for women that are just as chic if you're looking to switch things up from your usual looks.
Sometimes — or perhaps all the time, depending on your style — you just would rather wear pants to a wedding. But when save-the-dates and RSVPs begin to roll in, it can easily feel like you have no other choice than to go with a dress. Luckily, celebrities and influencers have proven as of late that a menswear-inspired suit is a strong alternative to its more feminine counterpart, which means you have all the more reason to wear one to your next wedding. And with the beautiful prints, colors, and silhouettes that brands have created, your options are virtually endless. (Although, if you want to wear black to a wedding, that's OK too.)
If you're not quite sure where to start, you can always opt for something classic like the $1,695 Altuzarra Fenice Blazer and $795 Serge Pant. Accessorize this suit with a pair of strappy metallic heels and timeless jewelry. Or, if you're feeling bold, wear white. You can style Violeta's $129.99 Double-Breasted Blazer with a burnt orange camisole and the $99.99 Buttons Straight Fit Trouser for an ensemble that'll work for the wedding and drinks with your friends.
On the other hand, summer is the ideal time to experiment with different suit styles. In which case, Zara's $119 Belted Satin Vest is a stunning statement-making option. And depending on the weather, you can wear it on its own or with a blouse underneath.
Just in case you want to wear a print, Temperley London's bright and colorful Stirling Jacket, $398, will look exceptionally good with a pair of white ankle boots or mules. Of course, if you want something subtler, the $125 Ikat Jacquard Blazer from & Other Stories will go perfectly with a simple silk camisole underneath.
Scroll down to see more stylish suits to wear to your next wedding.