7 Trendy Minimalist Jewelry Brands Instagram Can't Get Enough Of
J. Hannah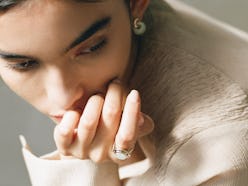 More likely than not, you've already curated an entire collection of baubles to keep in your daily rotation. That said, can anyone truly have too much jewelry? The answer is probably no, especially when the jewelry in question is of the minimalist sort. While wearing the same key pieces can result in a foolproof ensemble, it never hurts to add a few more trendy minimalist jewelry brands into the mix to keep everything feeling fresh.
Blame it on the transition from winter to spring or the idea of new beginnings, but this season has a way of igniting a surge of energy into everything — including your wardrobe. However, despite how easily spring can entice you with a new selection of statement-making pieces, the need for effortless jewelry will always be there.
If you've been wanting to incorporate some more gems into your repertoire, you're in luck — the list of minimalist designers is virtually endless. Though this means you have more than plenty of options to choose from, there are a few brands in particular that have been found on editors and It girls alike. To give yourself a place to start on the coolest minimalist brands to know, scroll down to see the ones fashion girls can't seem to stop wearing (and showing off on Instagram). Then, shop them all to make them yours.
J. Hannah
J. Hannah has won over the hearts of fashion lovers everywhere with her ultra-minimalist designs. Even the DUET collection, which is decidedly bolder in comparison to the designer's classic necklaces and hoop earrings, holds a tone of subtle beauty.
Stella and Bow
If you're the type of person who loves to wear layers of jewelry, Stella and Bow's line showcases gems like stacking rings and tiny stud earrings that will add a whisper of luxury to any ensemble.
KINN
From minimalist pieces like the Knives Edge Ring to on-trend baroque pearl earrings, KINN's collection includes timeless items that feel as if they've been passed down through generations of your family.
Bagatiba
Bagatiba's full collection is sure to have anything you might be looking for. With a range that spans from vintage-inspired pieces such as a coin necklace to earrings that feel architectural and modern, the brand will easily fit into your everyday wardrobe.
Argento Vivo
With all of the simple and understated pieces that Argento Vivo has to offer, styling your jewelry will be as effortless as ever. Plus, most of the brand's pieces are available for under $100, making the choice to buy them a little easier.
Bing Bang
Another affordable jewelry designer, Bing Bang has an abundance of minimal jewelry to wear with your everyday look. Whether it's as simple as a cigar ring or something designed in an unexpected shape, the brand brings an air of casual elegance with each piece.
AUrate
AUrate offers a variety of both modern and traditional jewelry, and each piece is designed to last forever. If you aren't sure where to start, you can use the Curate box to try five pieces on at home before you decide which ones to buy.