This Is The Jewelry Brand That Keeps Popping Up While You're Scrolling Through Instagram
Reliquia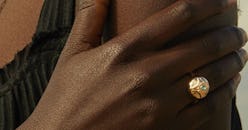 Ask any fashion aficionado: The key to discovering the latest trends and brands has a lot to do with research. Though a large part of that happens to be reading up on articles discussing the latest happenings in the fashion world, it also includes a good amount of scrolling through Instagram. And when you have trendy jewelry brands popping up in nearly every other photo, you know it's time to take note.
It's no secret that falling down an Instagram rabbit hole can often lead to finding the coolest jewelry designers on the market. Whether it's your favorite influencer who's been raving about the trend and sharing her key favorites, or your fashion-savvy friend who just posted about her latest under-the-radar find, you have the biggest brands waiting to be discovered at the tips of your fingers — literally.
Of course, if you aren't entirely sure where to look, it always helps to have somewhere to start. Below, you'll find seven of the coolest jewelry brands that are so good, you won't be able to stop yourself from sharing them on your own Instagram feed.
Reliquia
Looking for pieces that feel as if they were family heirlooms? Look no further than Reliquia, which has been making appearances on Instagram feeds everywhere for its vintage-inspired pieces as well as chic hair accessories.
SVNR
If you haven't already seen SVNR's asymmetrical earrings, which are made from upcycled materials, on your Instagram feed, you're about to see a lot more.
Mondo Mondo
A favorite among editors and influencers alike, Mondo Mondo makes pretty, statement-making jewelry that also feels timeless. Add a ring on for a touch of color, or a pair of simple earrings for everyday.
Annie Costello Brown
Her stamped brass earrings, which are reminiscent of artist Alexander Calder's mobiles, are what first put her on every fashion girl's radar, and now everyone is watching. The jewelry designer's sculptural pieces are sure to catch anyone's eye.
Bagatiba
With pieces ranging from classic hoop earrings and simple studs to diamond cuffs, LA-based Bagatiba brings you everyday fine jewelry at an affordable price point, which is something any jewelry lover can appreciate.
J. Hannah
The Los Angeles-based designer is known for her modern minimalism, with timeless pieces such as signet rings and baroque pearl earrings to modern styles like those in her Glacé collection.
Stella and Bow
Stella and Bow is a minimal jewelry line with a touch of whimsy. Create the perfect ring stack with one of the brand's gemstone rings, or throw on a pair of the everyday earrings, which will go with anything you wear.