There's Still Time To Order These Stunning Jewelry Gifts Before The Holidays Arrive
AUrate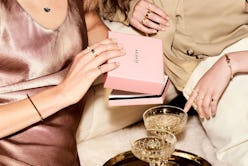 Okay, while December isn't exactly over just yet, it seems as though the time between Thanksgiving and Christmas (also known as the holiday shopping period) has gone by at a faster pace than you might have imagined. With that in mind, there's just about a week before the major holiday is celebrated, which means you have seven days to get any last-minute shopping in for all of the loved ones on your list. Of course, with such a short time frame to find the best gifts for every one, not everyone has the luxury of browsing their favorite stores for the latest It-item (and then there's the hassle of gift-wrapping). However, if there's one type of gift that will always be well-received, it's sparkling baubles, and thanks to technology, you can find the best last-minute jewelry gifts right at the tips of your fingers.
Let's be honest: Holiday shopping can be stressful. Even if you started your holiday shopping well before Black Friday this year, it's hard not to come across another item that's worthy of gifting to someone in your circle — especially if they're a newer friend of yours. Luckily for you, whether you're making some light additions to your presents or you're just getting started (no judgment), there are a number of online retailers that have some of the most beautiful jewelry pieces for everyone on your list — just make sure you order all of them before it's too late.
Shopbop
Shopbop is offering guaranteed delivery before Christmas Day by ground if you order your favorite pieces by Dec. 18. That means you can get this gorgeous Lucy Folk Afterlife Pendant Necklace, which costs $595, at your door in time for the holiday. If you're shopping for your sister, you can also get her these Theia Jewelry Harper Drop Earrings, $105. She'll be able to wear them to that formal family get-together you have planned. The retailer also offers two-day shipping and overnight shipping when you order by Dec. 20 and Dec. 21, respectively.
Nordstrom
When you order a piece of jewelry such as this Kate Spade Crystal Hinge Bangle by noon on Dec 18, you'll receive free delivery by Christmas Eve. Go ahead, get your mother this Monica Vinader Signature Thin Diamond Ring, available for $225, to wear with the rest of her jewels this season. She'll never want to take it off.
Anthropologie
At Anthropologie, everything you order by Dec. 20 will be delivered to you by Dec. 24 with standard shipping, so you'll have just enough time to take these Large Stone Crescent Hoop Earrings, $44, to the gift exchange you have with your closest friends. Or, opt for this minimal Dana Pearl Necklace, which anyone will appreciate.
AUrate
Get someone a piece of the minimalist jewelry brand AUrate, which is loved by cool girls all around. When you order by noon on Dec. 19, you can get this beautiful Diamond Bezel Necklace, $320, by Christmas Even. Just in time to celebrate with your family, you can also order this chic Halo Diamond Opal Bracelet, $550, to wear to the holiday parties you have for the rest of the year.